Washing clothes in a bathtub sounds ridiculous, right? How do you clean clothes when there is no washing machine around? Well, it might sound silly, but many people have to wash their clothes that way.
Washing in a bathtub can be great! Sometimes, it is a part of our domestic responsibilities. If you are the type of person that is looking for a new way to clean and care for your clothes without paying those hefty prices for high-end laundry detergents, then this guide is just for you.
Can You Wash Clothes in Bathtubs?
You can wash clothes in the bathtub if there is no machine or laundry area available. However, you will need to thoroughly clean the bathtub after doing your laundry. But it should be noted that doing laundry in a Bathtub is not encouraged as it uses a lot of water.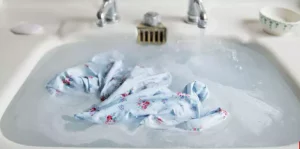 So, if you lack a washing machine, it is not the end of the world. You can wash the clothes in a bathtub and get the best results.
Just fill the tub with water, add detergent and put your clothes in.
Rub them around for a few minutes, and then rinse them out in another tub or bucket of clean water.
It is also a good way to clean delicate items such as blouses, shirts, and sweaters designed with sophisticated embroidery techniques. 
This option is suitable for those who have no washing machines or have just moved to a new home and have not had time to buy a washing machine.
The truth is that there are many situations where washing clothes in the bathtub can be incredibly convenient and time-saving. If you are in a pinch, washing your clothes by hand can be a good alternative. Having access to a tub can make the process much easier and faster than using an external washing machine.
How to wash clothes in the bathtub?
For this method of washing your clothes, you will need:
Hot water
A clean bathtub
Clothes that are not heavily soiled
Detergent or laundry soap
Procedure
1. Fill your bathtub with warm water, and add a mild detergent and some vinegar or baking soda.
2. Place your clothes in the water and let them soak for about 30 minutes (or longer if they are particularly dirty) and hand wash them.
3. Drain the water from the bathtub and refill it with cold water. Add a little more vinegar or baking soda and soak your clothes again for 30 minutes (or longer if needed).
4. Drain the water from the bathtub and hang your clothes up to dry!
5. Wash your hands after handling any wet laundry since you may have contact with chemicals from detergents/bleach while doing this process!
Is there a Tub for Hand Washing Clothes?
In a word, yes. A washtub is a large plastic basin with a drain, and it is the perfect thing to use for hand-washing. You can find them at most home supply stores, and they are not expensive.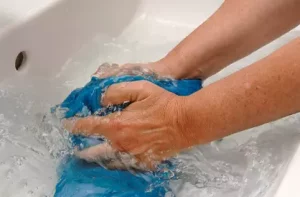 You can get one as simple as the one that holds about 4 gallons, enough to handle a small load of laundry.
It comes with a lid that has an opening in the center that you can put your hands through while using it.
Use the washtub by filling it with warm water, adding detergent, and then putting the clothes into the solution to soak for 15 minutes.
Afterward, you remove the clothes and squeeze out as much water as possible before moving on to the next step of washing by hand. If you have stains on any items, let them soak in a separate basin filled with warm water mixed with Oxyclean or another stain remover.
After soaking, you put the clothes in the tub again, but this time it is to rinse them out; just add fresh water and swish everything around until there are no more suds from detergent left behind.
You can also rinse them under running tap water if you like; either way will work well enough provided care is taken not to touch anything else during this step (like your sink). Finally, you can hang them. 
The Best Utility Sink Laundry Tub 
The washtub features a rust-proof and dent-resistant floor, so you can feel confident in your investment. This utility sink features high-quality materials and the latest manufacturing technology to give you superior strength and stability.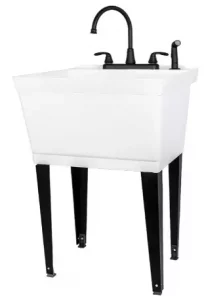 The smooth, satin black flow-coated legs have adjustable levelers to ensure a perfectly balanced sink on your uneven surfaces.
It also comes with two pre-cut holes in the back panel, allowing you to easily mount your faucet and use your sink immediately.
The included gooseneck faucet features an easy turn handle with smooth operation.
The rear positioning of the faucet allows for easy installation against a wall or backsplash. There is a heavy-duty quality drainage assembly with a strainer basket. 
This tub comes with pre-drilled 4″ center holes for faucet and sprayer installation.
The basin has one full-length galvanized steel underside support brace that runs from left to right between the legs.
Achieve it all with the clean lines of this laundry tub. This large utility sink is as functional as it is durable. Made of stainless steel, it is a great addition to your laundry room or garage.
Pros
Satin black finish
Multipurpose. 
Durable design
Easy to install.
Rust and stain resistant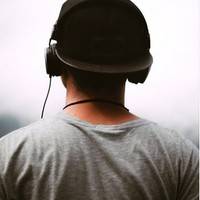 As a homeowner, I am specifically keen on home improvement. I am passionate about homes, yards, and home improvement. I blog on home ideas and reviews on solutions that make homes better.