The kitchen is arguably a home's heart. As the perfect family hot spot, it is no longer necessary to make the kitchen a place for only cooking. The inclusion of innovative ideas can bring the perfect transformation to make your kitchen a hub for entertainment and snacking.
However, an open kitchen with empty spaces will not be a fun place for gatherings. More kitchen designers now encourage homeowners to transform the kitchen with inclusion of attractive elements.
One of the best ways to achieve this is by improvising the space above the sink. A good décor on this space will definitely create a more attracting environment that the visitors will love.
Above the kitchen sink décor ideas with the best finishing touches is what you need to make your kitchen stylish. With inclusion of quality faucets, sinks and other necessary fixtures, your kitchen can even become a party central place.
How to Prepare for over the Kitchen Sink Décor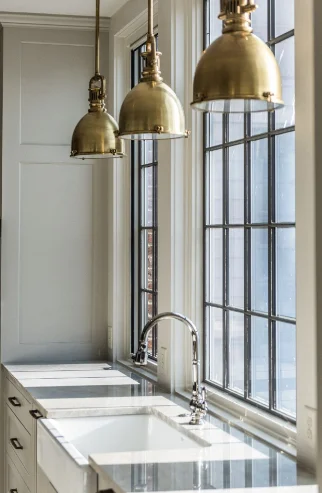 The over the kitchen sink area needs some preparation before you can incorporate your décor ideas. If the space above your sink has no windows, decorating it will make the task of doing dishes even more enjoyable.
However, proper preparation of the surfaces will make the decoration exercise a success. Be sure to use materials that are not only washable but also waterproof.
This will make it easier to clean the grease and food particles that form on the walls after cooking. Below are some preparation ideas you can follow:
Put tiles on the walls before you can start implementing your décor ideas. Tiles come in a wide range of colors and materials. Therefore, ensure you select good tiles that will complement your décor.
You can add tiles on the whole backsplash area or simply choose to include them on the small area above the sink. Brick veneer and natural stones are also good materials you can use as an alternative for tiles.
Preparation of the surface can also involve the use of glass. Without a doubt, glass adds a better look to the wall and your décor will even add an exciting environment. When glass is used together with mirrors, it helps to add brightness and more light to the sink area. You only have to look for glass or mirrors that will not reflect items on the sink.
Painting behind the kitchen sink is equally a unique preparation as you look forward to putting your décor ideas. Apart from a solid wall of color, you have the alternative of using attractive paint patterns. You can include more designs by making freehand painting or using stencil. Nevertheless, it is advisable to use paint that cannot be affected by water or scrubbing.
7 Best above Kitchen Sink Décor Ideas
Most traditional kitchens had a window above the sink. You could look outside as you do your dishes. With more innovative ideas rising, there are now kitchens with no window above the sink area.
This creates room for good ideas to decorate the space and make it more appealing. Below are some of the best and latest ideas:
1. Chalkboard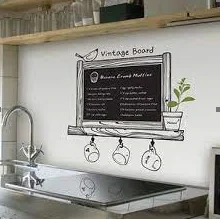 This is a very creative idea that can make the above kitchen sink space more functional. With a colorful and attractive chalkboard, kitchen sinks with no window will be more attractive.
The chalkboard can be a perfect place to display your menu.
Alternatively, you can opt to write cooking recipes there. Chalkboards are easy to replace in case you want to change the décor into something else
2. Glass cabinets
The space above your kitchen sink can act as the perfect avenue to create extra storage for glasses and other items. More cabinetry ideas can make the décor appealing. Other materials for creating cabinets can be heavy and unattractive.
Glass cabinets with exciting colors can make the above sink space a beauty in your kitchen. Far from that, glass cabinets for glassware can be the perfect place to store your favorite wine. For better results, you can opt for plexiglass instead of the traditional real glass.
3. Open shelves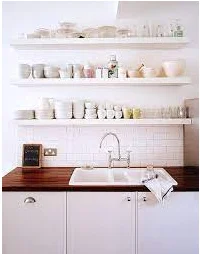 Open shelves are good above sink décor ideas. Besides, building floating pantry shelves fit the area. It is even more attractive if it matches the entire wall space because it will create a better aesthetic look.
Decorate your shelves with amazing colors, cookbooks or pottery.
You only have to add a personality touch as long as it matches the aesthetic of the area. With your creativity, there are simply endless possibilities that can style your sink with these shelves.
4. Open dish storage
Making dish storage above the sink area can add style to the space. It makes it possible to display dishes in an attractive manner and display.
Instead of using wall cabinets, opt for shelve installation which is more attractive and cheaper.  Spacious shelves will ensure your dishes are spaced well in an orderly style.
However, be aware that open shelving above the kitchen area needs a lot of washing and maintenance to avoid clutter. It all depends with the type of equipment or heat appliance you are using for cooking.
5. Art work above the sink area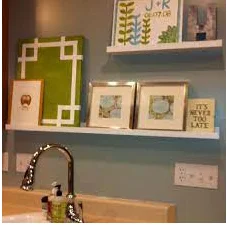 There are many possibilities of decorating your sink area with good artwork. Having art above the sink can help you to add colorful styles that are personal to you.
You can also purchase or download great artworks then print at any store nearby. This gives you the chance to select artwork of your own choice. There is also the option of going for artwork that has already been framed.
Floral and woven baskets are also some of the great ideas to include above your kitchen sink area.
6. Colorful mirrors
Mirrors above your kitchen sink area will even make the space to look larger. As a matter of fact, replacing windows with mirrors is one of the best ways to make your kitchen area more appealing.
Apart from opening up the space, mirrors will reflect more light to make a smaller kitchen look bigger.
7. Rods and hooks
Rods and hooks are good ideas that will ensure you have more space to store kitchen items. You not only have a decorative space above your sink, but also a more functional one.
Wooden and cast iron rods can have hooks where you can hook your kitchen utensils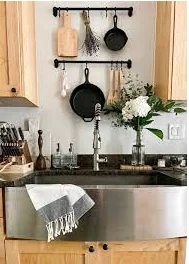 Ways to Utilize the Kitchen Space above the Sink
For starters, you can install a window to create a better view.  You can enjoy natural light and a better view as you wash your dishes. You can also use this space as the ideal wall to write cooking recipes and menu.
You can easily master some new recipes as you wash your dishes. A good chalkboard will be the right tool to place above the sink.
The space can also serve as a perfect storage solution for dishes, glasses and other kitchen utensils. You can install spacious cabinets above the sink for storage hence creating a more spacious working environment.
Apart from open shelves, you can also include hooks and rods for hanging pans or pots.
Items to Hang above a Kitchen Sink
There are different items you can hang above your kitchen sink area. Printings, hanging sculptors, mirrors and artworks are some of the items you can hang.
If you want to cherish your captivating memories, you can also hang a respective collage photo frame. If the area looks dull, go for a good abstract painting and hang it.
Wall hanging planters, a wine rack, wall clocks or a calendar board are also good options for hanging.

I love writing about solutions on issues that I face at home and around the community. I love to share creative ideas and valuable reviews of some of the best products to make your home experience better.