To appreciate potty chairs, it is good to know the benefits of using bedside commode chairs, especially to the senior citizens.
Compared to the standard toilet, there are benefits of using a senior potty chair. This post seeks to explore these.
We have a comprehensive review of the best commodes for seniors but this post seeks to know the benefits. To do this, first, let's know what a Portable commode for elderly people is.
What is a Commode Chair
A portable commode is a toilet that can be moved or carried easily, which is designed for use by elderly people or people with disabilities.
Such toilet chairs have arms to support the user when getting in and off the toilet.
The toilet chairs are also strong to support users who have put on weight. To know the bestvalue choices, read our comprehensive guide to the best commodes for seniors as well as potty chairs
Benefits of using a commode and potty chairs to seniors
The main benefits of the commode chair are safety and promoting privacy, control and giving quick access to seniors.
Additionally, potty chairs are portable, preserve water, lasting longer, and make caregivers work easier.
Let's delve into each in detail.
1. Commodes have Quick Access
The portability of the senior commode toilet makes it easy to be placed or moved to various spots preferred by the user.
This enables the setting of the commode chair in an easily accessible place.
One can choose to set it up as a bed toilet and place it in the bedroom or set it in the living room where the seniors can access it easily.
One can also choose to keep it in the living room during the day and switch it in the bedroom at night. This enables the user to quickly access the toilet at all times of need.
2. Offer Control and Freedom to seniors
When it comes to intimacy and self-hygiene, seniors and people with less self-governing freedom want it more.
Despite their limitations, they desire to take care of themselves without asking for help. In a study, the independence of seniors is a major factor for caregivers.
Commode chairs promote this independence by reducing movements in and out of the toilet enabling the user to go to the toilet without help.
In cases where caregivers are always available, some seniors are faced with the discretion of avoiding waking them at night.
This is especially when in need of assistance and preferring to wait for them to wake up.
A senior potty chair that sits next to the bed relieves the senior of such discretion.
This is not only important during the nights but also during the day because the user is unlikely to ask for assistance.
3. Commodes Preserve privacy of elderly people
It is rare for people with reduced mobility to accept even caregivers with close relations to help them go to the toilet.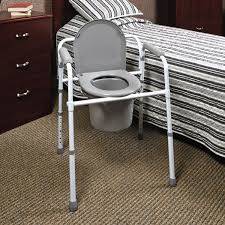 A study by Gallagher and Hodge showed that there is a gap in understanding seniors' values by their stakeholders.
Definitely, privacy is among the main factors that stakeholders should consider since it is highly valued by any senior.
A commode chair can solve this problem by enabling the user to count on himself throughout the day for all biological functions.
By guaranteeing his ability to use it for himself, and control when necessary, potty chairs help seniors to preserve their dignity.
Avoiding the installation of a fixed toilet booster and installing models of adjustable height chairs directly over the toilet. This reduces interactions between seniors and caregivers.
4. Potty chairs give Safety to seniors and caregivers
Bathrooms and toilets can be the most dangerous rooms in the houses of senior people.
This is because there is a high likelihood of falls and serious injuries to the senior. Therefore, safety becomes a key benefit of using potty chairs, making them worth the cost.
These falls can be caused by the slippery state in bathrooms and less room to maneuver for seniors who use walkers and rollators.
This issue can be solved by using the commode chairs. These chairs have support bars that help seniors limit risky maneuvers.
These bars also help the caregiver to easily assist people who lack balance and strength to wake up alone.
It secures the caregiver from injuries by minimizing travels that are made from bed to the toilet and back again especially during the nights.
5. Commode chairs reduce expenses for elderly
When seniors lose the freedom to control and govern themselves, some types of equipment in the house become inadequate and others require replacing.
House arrangements must be adjusted also to easily cope with their situation.
In the bathrooms and toilets, commode chairs can delay or avoid costly replacements that may need to be made.
For example, a well-chosen commode chair can stand in for armrests and toilet boosters. They are often ergonomic and aesthetic when they are installed permanently.
6. Potty Chairs preserve water
In times of water shortages or when the need arises to conserve water, the senior potty can be a good option to help in that.
The commode chairs merely require water. This is because they don't need to be emptied so often.
These chairs also require less cleaning which one can do once in a while.
7. Potty chairs are long-lasting
Most commode chairs are made of aluminum to keep them strong and avoid them from breaking easily.
Support bars are usually firm to sustain a person of heavyweight. This makes potty chairs and commodes cost-saving for the long term.
At the same time, they can also be used by more than one person if need be, which is common for an aging society of baby boomers.
8. Commode chairs are highly Portable
We live in a mobile world. We rarely restrict ourselves when it comes to movements. Portability is a key benefit of commodes.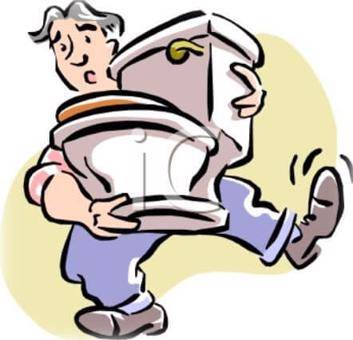 During travels and vacations, it is hard to leave seniors at home alone.
Mostly because one is not sure if they are to go about their occupations safely.
Therefore, the need arises to pack their items of daily use during travels.
This is possible because potty chairs can be easily packed and transported everywhere.
This helps avoid complications of their routines and the seniors are likely to enjoy the vacations too.
Commode chairs can be easily stowed to fit in the car for easy transportation.
This should be considered during purchase. A light and sturdy commode are easy to pack and transport.
Easily packable commodes also will help protect the pride of senior who does not wish to disclose or draw attention to his loss of autonomy to the public.
9. Commode chairs make caregivers' work easier
Caregivers usually have a huge task of ensuring that the seniors are well taken care of.
This work can be increasingly tiresome and any form to assistance to ease it can be of great importance.
Making the work of caregivers easy will not only improve the quality of the senior's life but also that of the caregiver.
Portable commodes that can be set anywhere in a room will make movements easy.
It is easy to walk a person a few feet away from the bed than walk them to the toilet and back.
The setup of commode chairs also helps reduce the control of caregivers. This happens when seniors are accessing the toilet compared to the normal toilets.
Redeveloping the environment according to the inability of a senior will help him stay in the living environment of his choice.
The living space environment should adapt to the people who occupy it. It is not the people who should adapt to a living space environment.
Conclusion
Commode chairs help facilitate and care for seniors at homes by making the environment they live in adapt to their limitations.
One should consider a variety of commodes pros, cons, cost and features before purchasing them for their seniors.
To learn more on the best way to choose, read our guide on the factors to consider when choosing a good commode and the features of a good one.

Latest posts by Jessica Kasey
(see all)