A drop-in sink, also known as a self-rimming sink, top-mount sink, or over-mount sink, is a sink that falls into place of a hole that is pre-cut in the countertop. Drop-in sinks work with all types of countertops. They are used on kitchen counters, bathroom vanities, and bars.
Most drop-in sinks are made of cast iron or porcelain. Consequently, it makes them heavy. Therefore, the countertops in which drop-in sinks are fitted should be structured to support the weight.
The drop-in sinks used to be the only sinks available until other models were introduced. Even with the new models, the drop-in sinks are still popular because they always come cheaper than other sinks.
Are Drop-In Sinks Outdated?
Drop-in sinks are not outdated. They are available in plumbing outlets all over in different models that vary in material, colour, and size. Stainless steel drop-in sinks are easy to clean and install.
 Drop-in sinks made of composite are durable and have a smooth surface that improves the look of your kitchen. Enamelled drop-in sinks come in different colours that fit different styles of your home. They are also easy to clean and durable.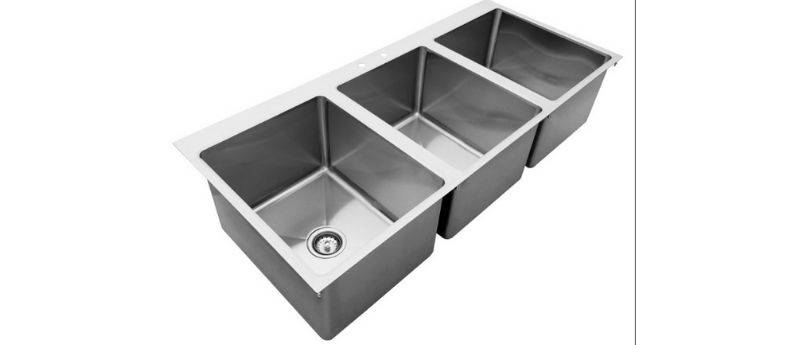 Drop-in sinks made of copper are lightweight and are easy to install.  
Drop-in sinks are used to date because of their adaptability.
They work with any countertop material and laminates compared to other sinks that work with solid materials only.
Drop-in sinks fit different styles. There are square, rectangular, round, and oval-shaped drop-in sinks that fit different outfits in bathrooms and kitchens.
On the other hand, one can argue that drop-in sinks are outdated. The rim in drop-in sinks forms a border around the kitchen sink opening.
This means that you will not be able to wipe debris from the countertop directly into the sink.
If the rim is not sealed correctly, the waste it collects can allow water to the sink cabinet by seeping the water between the countertop and the sink. If these problems do not occur, then a drop-in sink is perfect for your kitchen.
The Latest Trend In Kitchen Sinks?
Over the years, different sink models have been developed. Many homeowners have switched from single and double bowl sinks to sinks with large basin styles that can accommodate large pans and pots. The following are the latest trends in kitchen sinks:
1. Under-Mount Sinks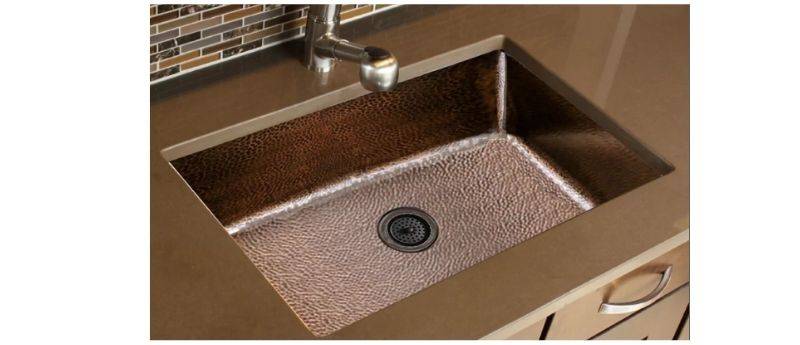 They are installed below the countertop. You can easily clean the countertop.
Besides, they are used in solid surfaces such as composite and granite.
They are cost-friendly and come in a different range of colours.
2. Apron Sinks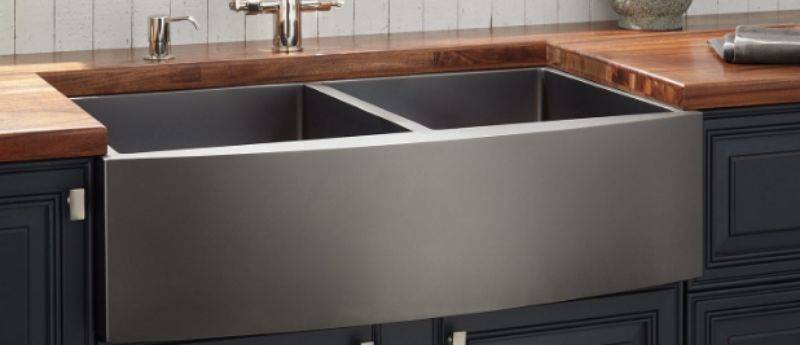 This sink resembles historic farmhouse sinks. It adds to your kitchen that timeless country appeal.
They are available in different materials, including copper, stainless steel, and porcelain.
They are easily integrated into countertops as well as stand on their own.
3. Integrated Quartz Sink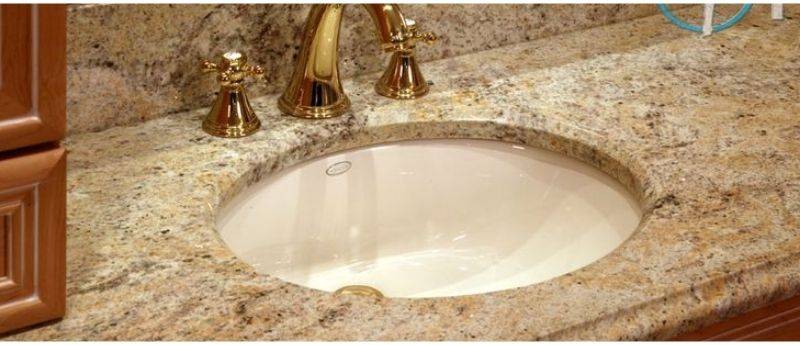 These are integrated kitchen sinks that are moulded into the countertop directly.
This combination forms a transition that is easy to clean up. The mixture also forms a sleek look in your kitchen.
4. Integrated Marble Sink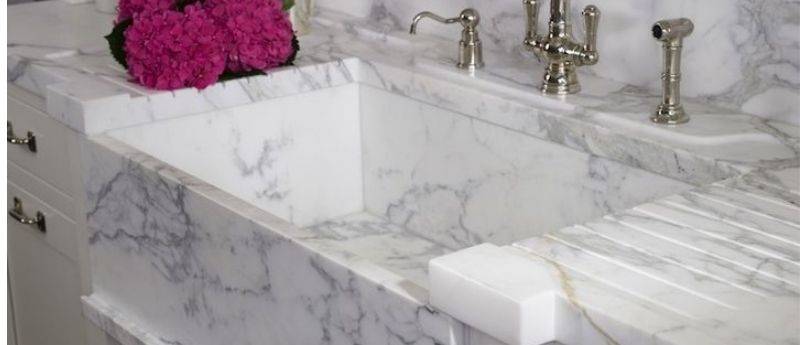 Marble sinks have a seamless surface that is easy to clean.
They are integrated into the countertop just like other sinks.
There is a modern sense of flair when a marble sink is integrated into a marble countertop.
5. Bamboo Sinks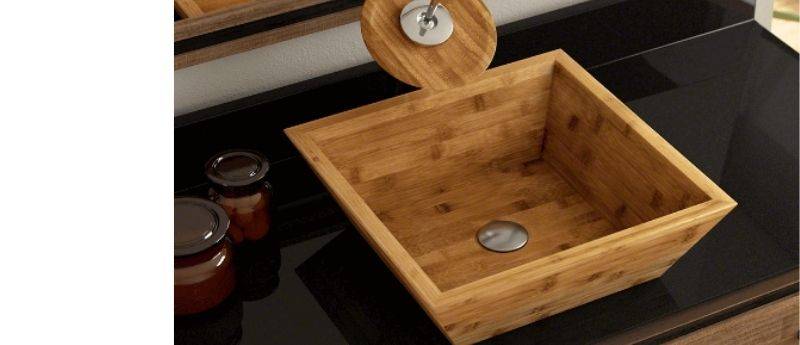 These sinks have offered an escape route away from sinks made from copper, stainless steel, marble, and quartz.
These sinks are made purely from matured Moso bamboo with water-resistant top-coat and safe biding adhesives.
They become as practical as the metal sinks and give your kitchen the modern look you have been looking for.
6. Prep Sinks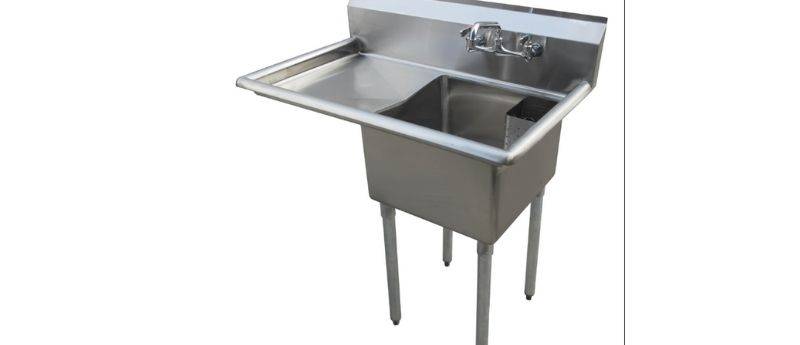 A prep sink is a multipurpose sink. They can be used not only for washing but also for food preparation.
Most of these sinks are aesthetically pleasing.
They are also available in various styles, shapes, and sizes that perfectly fit different kitchen styles.
5 Differences between a Drop-In Sink and an Under-Mount Sink
The following characteristics can identify the difference between drop-in sinks and under-mount sinks:
1. Configuration of the Sinks
Drop-in sinks have basins that drop into the countertop. The perimeter top of the drop-in sinks rests on top of the countertop and holds everything into place.
In some drop-in sinks, metal clips are needed under the countertop to secure sinks. Alternatively, a caulk under the sink can be used to secure the sink. They can be used with all forms of countertops.
Undermount sinks are used with solid countertops materials only. These sinks are mounted to the bottom of the countertop.
They have rims that are not visible because they rest up against the counter bottom.
2. Cleaning of the Sink
All working areas of drop-in sinks are visible and accessible, making them very easy to clean. Even gunk that builds as a result of the seam formed by the lip is easily cleanable.
There is a gap in the under-mount sink where the sink joins up with the counter. This gap is not filled flush to the surface and has a silicone caulk bead.
A depression remains, which becomes an attraction for food build-up. This is usually hard to clean. The solutions are replacing the sink every two or three years and digging out and replacing the caulk.
3. Cleaning the Counter
Undermount sink countertops are very easy to clean. You can swipe food particles quickly off the countertop into the sink.
on the other hand, drop-in sinks are harder to clean compared to under-mount sinks. The drop-in sink lip forms an abstraction around the sink. This makes it hard to swipe food particles from the countertop into the sink.
4. Installation
Drop-in sinks are easy to install compared to under-mount sinks. One can install a drop-in sink on their own.
All you need to do is clean away the old caulk, lay a bead of caulk down, centre the sink according to the hole, and clip it underneath the countertop.
Under-mount sinks are hard to install because they require too much care. They are temporarily supported and fitted into place as the clip locations are being marked.
Holes are drilled very carefully into the countertop, and the sink is mounted and caulked with no room for error allowed.
5. Cost
The cost of installing under-mount sinks is too much high compared to the cost of installing drop-in sinks. The drop-in sink cost can be further slashed if you decided to install it on your own.
on the other hand, under-mount sinks are not recommended for installation by non-experts because a single mistake can damage your expensive countertop.
Replacing a Drop-In Sink with an Under-Mount Sink?
It is tough to replace a drop-in sink with an under-mount sink. The countertop is the first challenge. Drop-in sinks can fit all types of countertops, but under-mount sinks only work in solid countertops such as granite and quartz.
If your drop-in sink was made of a laminate or tile countertop, the only option you have is to replace the entire countertop before installing the under-mount sink.
Tips for replacing a drop-in sink
The following are tips to consider when replacing a drop-in sink with an under-mount skink:
1. Strong Sink Support
To under-mount a drop-in sink, you need secure and robust support that will hold the sink in place.
You will need to purchase sink support designed to hold heavy weights depending on the weight of the under-mount sink you are buying. Always check the specifications of the weight it can hold before purchasing.
Applying enough amount of Sealant
To ensure that water does not leak into the sides of the sink due to small gaps created by the sides on the top frame of the sink, use a sealant to seal the whole parameter.
The use of silicone sealants specifically helps create a waterproof sealant. Ensure that you do not leave any gaps when applying the adhesive and leave it to dry before you test for any water leaks.
Using Under-Mount Clips
These are essential for support underneath the countertop. The clips add support by ensuring the sink is secured into place.
This is done by ensuring the top frame of the sink is attached to the countertops undersides. At least eight clips are required to hold the sink firmly.
Can you use a Drop-In Sink with a Granite Countertop?
Though granite countertops are mostly recommended for under-mount sinks, they can also be used with drop-in sinks.
Contrary to under-mount sinks where the sink is installed into the countertop by glueing the bottom of the countertop and the lips of the basin, drop-in sinks are installed into the granite countertop with the edge of the granite supporting the rims of the sinks.
In both installations, one has to ensure that moisture and grime build-up inside the seam is prevented.
Do you have to Caulk a Drop-In Sink?
Drop-in sinks need to be caulked. Drop-in sinks can be installed in any type of counter that is cut into its dimension. Though these sinks come in a wide range of sizes, shapes, and styles, they all are installed using a similar method. They all need a silicone caulk that will assist in sealing them into place.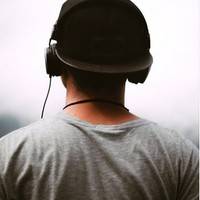 As a homeowner, I am specifically keen on home improvement. I am passionate about homes, yards, and home improvement. I blog on home ideas and reviews on solutions that make homes better.