Here is a list of the best portable whirlpools for bathtubs that will help you enjoy the bath experience. Some with heaters for good therapy. Let us explore each option together with their pros and cons.
1. Jet Spa Bath Portable Whirlpool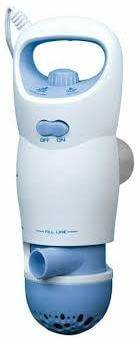 You can keep your body healthy by using this luxury spa product. It comes from durable kinds of stuff to offer you a long-lasting solution. It can fit in any size of the bathtub.
Furthermore, it has a lightweight and compact design suitable for business trips or holiday vacations. This product is a source of pain relief.
It can transform your bathtub into a point of relaxation while melting away pains and aches. If you have a stressful day and accumulated fatigue, this is the way to go. 
The product has two settings where you will customize to match your needs and enjoy the spa experience. For instance, one can choose a bubble option for relaxing comfort or jet water stream to experience a massaging effect. 
It has an adjustable jet nozzle that enables the user to change the stream in any direction. It can be the right gift for your family. The product is simple and easy to set up. 
Lightweight and compact hence suitable for trips
It offers pain relief while melting way fatigue 
It has two convenient settings for customization
easy to set up
The pocket-friendly price tag
Less force to move water in sizable bathtubs
2. Serenelife Portable massaging Spa
If you want to enjoy your whirpool, look no further than Serenelife massaging spa. You will lay the mat down, sit, and relax. There is a connected air hose that will produce massaging bubbles.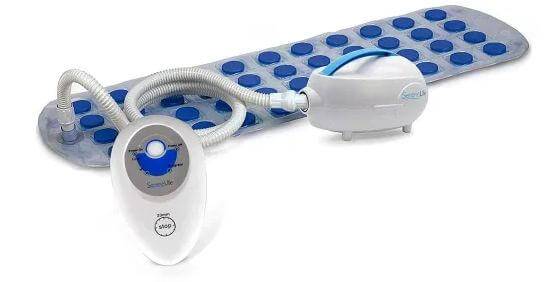 Additionally, this equipment has a motorized air pump that will deliver millions of bubbles per second. You can place it outside the bathtub at a considerable distance.
The motorized pump has an auto shut off feature for safety reasons. Furthermore, the pump uses an 8.2 feet hose. 
There is a built-in heater that will regulate the water temperature. When you put on the appliance, it will begin to warm the water to the desired temperature.
The mat happens to be soft and fully submersible. It is also water-resistant. Furthermore, the cushioned mat is mold-resistant, and with a padded surface, the dimensions of this mat are perfect for accommodating all body sizes.
There are suction cups beneath the mat to prevent slippage.
Massaging bubbles to enhance a soothing experience
Motorized air pump to deliver thousands of bubbles
Built-in heater for warming cold water
Remote control for hassle-free operations
Suction cups for preventing slippage
There were complaints about its durability.
3. HoMedics Whirlpool Spa
Homedics is a powerful and unique product that improves your bathing experience. Firstly is a special design that features two powerful jets. They will convert your bathtub into a whirlpool.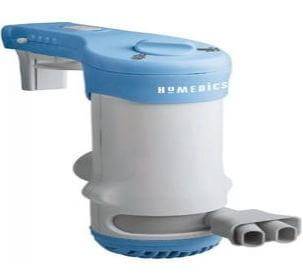 The product has excellent control measures.
You can design it to produce a powerful stream that will restore a joyful and relaxation experience.
On the other hand, you can achieve gentle bubbles that will promote a harmonious massaging experience.
The cool thing is this product has brackets that will fit into any size perfectly as a portable whirlpool for your bathtub.
Furthermore, it has suction cups that will hold it securely.
For safety reasons, the designer used an ALCI power pack that will not operate when immersed in water. 
The product is compact hence ideal for storing in your bag. The lightweight design enhances the portability aspect. The warranty will serve you for two years from the date you buy this product. 
Powerful jets to improve its overall functions
It has a control two give your different bathing options
24-month warranty to handle manufacturing defects
It has adjustable brackets to allow it fit in all sizes
Lightweight and compact design
It lacks adequate to move water effectively
4. WBHome Inflatable Bathtub
It is a luxurious bathtub that will accommodate different body sizes. Precisely, it is 68 inches hence 8 inches longer than the regular bathtubs. It is spacious enough to prevent any crowding.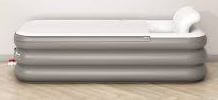 This bathtub comes from thickened vinyl, which makes it durable. It also comes from PVC, which is toxin-free.
It is, therefore, safe to use without causing health hazards on your body. The used materials are also environmentally safe. 
This elegant product has a mix of white and gray colors, making it have a cozy look. It can fit almost all bathroom sizes. The bathtub has a user-friendly design. 
It has a sponge cushion and a curved backrest to increase comfort. There is a built-up cup holder. It will enable you to have a beverage while taking a bath.
This product is a simple design to operate it easily. It comes from an electric pump that takes one minute to inflate it.
A considerable size to allow all sizes of people
Premium materials that are durable and non-toxic
The backrest makes it to be user friendly.
Simple to use and store
It has different colors to give it an elegant look.
5. Goplus Outdoor Spa
It is an inflatable hot tub that comes from smooth and top quality materials. It will accommodate 4 to six persons hence a perfect option for the family. The product tolerates both outdoor and indoor use.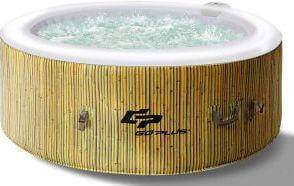 The process of maintenance is easy for the user. It has filter cartridges that is easy to replace, thereby extending its lifespan.
The cartridge ensures that the waters remain clean hence giving you a healthy bathing experience.
The bathtub can accumulate heat that does not exceed 110F. This is fairly good for portable whirlpools for bathtubs.
It has insulated ground cloth to eliminate heat loss. Furthermore, the insulated cloth ensures maximum safety while in use.
This bathtub has internal hard water treatment. It is suitable to offer you pain relief after a busy day. The product will produce bubbles that will offer you a soothing massaging experience.  
The bathtub is easy to assemble and transport.
High-quality, long-lasting materials
It has an insulated ground cloth that preserves internal heat.
It has a safety cartridge that filters water to remain clean.
Excellent bubbles that provide a soothing experience 
6. Bestway SaluSpa Hot Tub
Do you want to have an exciting spa experience? You will need this bathtub to relax after working all day. It has an excellent bubble network that will offer you a luxurious treat.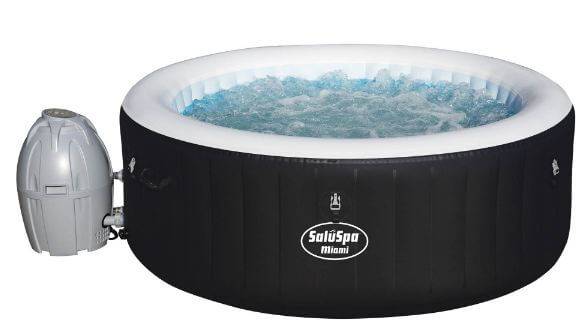 The cool thing is the bathtub has a digital control system to control the water temperature. 
Also, there is a power-saving time that will automate the spa temperature for 72 hours in advance.
The used materials are puncture resistant. They will not deform or lose its original shape when subjected to rough handling. 
The process of setting it is rather simple. It will not demand any tool. Also, you do not require additional skills to put it in the correct shape. It has a pump to inflate and deflate the product. 
The spa has handles for transportation convenience. It can deflate compactly to allow optimal storage and transportation. Typically, the durable materials will make it last for long. 
It produces fine bubbles to improve your bathing experience.
It has a digital control panel to manage all the functions.
The product requires a simple set up and maintenance.
There is a lift handle to provide transportation convenience. 
The product can deflate to a compact design.
It comes with high pricing.
7. Coleman SaluSpa Hot Tub
Coleman will help you to relax just by pressing the button. It has a soothing air jet system that will provide bubbles for your relaxation and relief of pain. It has a rapid heating system to warm the cold water.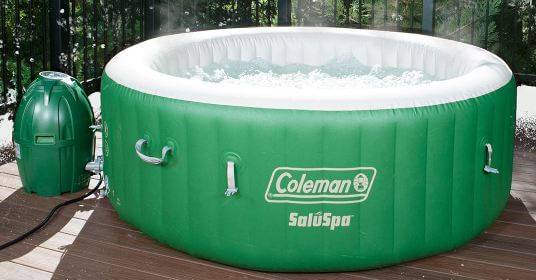 The cover comes from leather materials, making it water-resistant. Furthermore, it has a built-in air chamber to enhance circulation. There are safety clips to enable it to lock safely. 
This hot tub spa will accommodate 4 to 6 individuals, therefore the right option for the family. The heater will warm up the water up to 110F, which is convenient for your bathing experience.
The pressurized tube can install in minutes. The walls are durable to prevent any tearing or leakage. This is a good portable option for the elderly. You can check more options in the best bathtub for seniors in another review post we did.
It has a cushioned floor featuring a drain valve to eliminate any wastes. Typically, the bathtub will serve you extensively.
The bathtub will serve up to 4 to 6 people simultaneously.
It has an automatic start and stops timer to control water temperature.
The product can inflate in minutes.
It produces enough bubbles to cause a soothing effect.
There is a control panel to control it digitally.
The attached pump is not efficient enough.
Check out our comprehensive list of bathtubs that have seats in them so that you can explore more luxurious and comfortable bathing options.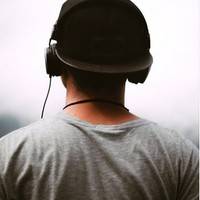 As a homeowner, I am specifically keen on home improvement. I am passionate about homes, yards, and home improvement. I blog on home ideas and reviews on solutions that make homes better.