A comfortable and well-built bathtub is a vital element of your home, whether you prefer an occasional long soak or routinely indulge yourself in bubble baths. Since a bathtub is such a large investment, you should carefully consider the vital features you need.
In this article, we have discussed some of the best bathtubs with a built-in seat and also dug into some factors to consider before buying them.
A quick comparison table
| | | | |
| --- | --- | --- | --- |
| Product Name | Details | Unique Selling Point | Buying Link |
| 1. ARIEL Platinum Bathtub | With a built-in heater pump | LCD controlled modern features | |
| 2. Ariel EZWT-3060-SOAKER-R Bathtub | With a built-in safety grab bar | For those with limited space and cash | |
| 3. Empava EMPV-JTX01 Hydrotherapy Bathtub | With 48 Pieces of air for low-pressure massage | Suitable for small bathroom | |
| 4. American Standard Gelcoat Value Whirlpool | ADA-compliant safety and comfort features | 10-year tur warranty and lifetime door seal warranty | |
| 5. Meditub 30×60 Right Drain Bathtub | Extra-wide door | Suitable for mobile home installation and limited spaces | |
| 6. Fisher-Price 4-in-1 Sling 'n Seat Tub | Includes whale scoop and squeeze bottle | 4-stage convertible from infant to toddler stage | |
| 7. First Years Sure Comfort Deluxe Tub | Mildew resistant and nonslip | Affordable and comfortable | |
1. ARIEL Platinum BT-150150 Whirlpool Bathtub
If you are looking for a modern bathtub with an integrated seat this heart-shaped ARIEL Platinum BT-150150 Whirlpool Bathtub might suit you. Its construction features an ARIEL Platinum material reinforce with premium acrylic to enhance longevity and resist cracking, chipping, or fading.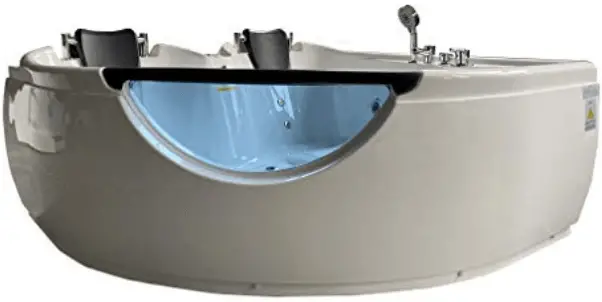 Moreso, its smooth finish ensures seamless and effective cleaning and maintenance and cleaning.
Again the bathtub has a walk-in door for those with mobility issues, as well as a corner lip bench if you wish to just soak your feet only.
The bathtub comes with an easy-to-use LCD control panel to control modern features such as temperature, volume, air bubbles, and water pressure.
Also, it comes with a built-in heater pump to keep the water warm during your soak. However, the water must be pre-heated at the start of a bath.
It contains 98 gallons of water for a long, relaxing bath.
It includes nine whirlpool jets for a thorough massage.
Attractive and comfortable bathtub
Comes with modern features such as chromotherapy lighting and music
It can only maintain the temperature of the water preheated but cannot heat
Comes in 220V version only thus inconveniencing people with 110V outlet
2. Ariel EZWT-3060-SOAKER-R Bathtub
For those looking for a bathtub with a built-in seat yet, they are short on cash and on space, the Ariel EZWT-3060-SOAKER-R Walk-in Bathtub is the model for you.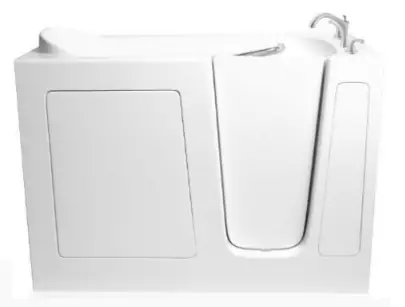 This bathtub is designed exclusively for customers who want ADA-compliant safety without all of the frills.
It includes everything your loved one will need for a relaxing soak:
A grab bar that complies with ADA standards, a textured floor, a heavy-duty door, and a support frame with adjustable feet.
Ariel's Soaker-R offers budget-friendly peace of mind.
You won't have to spend thousands of dollars on a tub and installation charges for your loved one to enjoy a relaxing bath and therapeutic experience.
It's as comfortable as models that cost tens of thousands of dollars more.
Of course, it lacks the hydrotherapy jets and other luxuries seen in more expensive models, but is that really what matters?
Budget-friendly
Easy to install
With a built-in safety grab bar
Durable yet elegant
Lacks the hydrotherapy jets and other luxuries
You have to drill faucet holes yourself
3. American Standard Gelcoat Value Whirlpool
This American Standard value model includes all of the most up-to-date safety and comfort features, as well as a lifetime door seal warranty.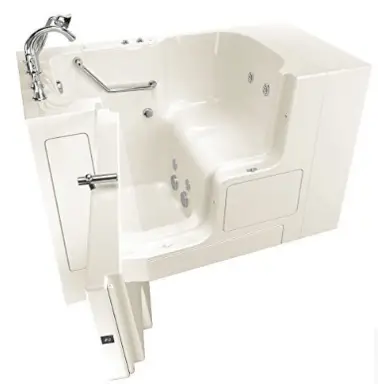 It's one of the best bathtubs with seats for seniors when it comes to safety. Ie it's the extra-wide seat,
ADA-compliant grip bar, low-entry door, and a non-slip surface that allows little room for anything to go wrong.
The absence of comfort features is the only thing keeping it from being the best.
It comes with six high-quality hydrotherapy jets that give you a GREAT leg massage.
Additionally, it features a patented Quick Drain system that drains the water in less than two minutes after bath and does not require extra plumbing.
Easy-touch  button control
Ideal for the elderly and physically challenged
It's safe to use and durable
Includes a 10-year warranty on the tub and 5 years on its components
Abit priced yet no comfort features
Does not heat col water
4. Empava EMPV-JTX01 Hydrotherapy Bathtub
The Empava bathtub with an integrated seat is designed to provide you with an unrivaled bathing experience.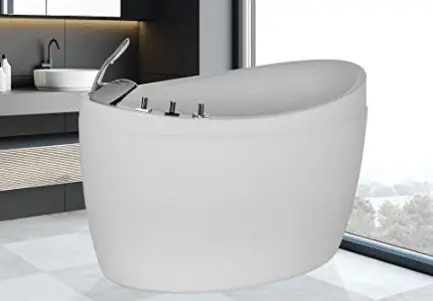 It features not only a study durable construction but also a glossy white acrylic and a stand-alone design to complete your bathroom decor.
Again, its Empava Air tub comes with 48 air pin hole jets, for warm air bubbles to provide a low-pressure massage.
The air holes are powered by a ½ HP air pump that delivers enough power to soothes the entire body.
Easy to install
Includes 3 years limited
Completes your bathroom decor
Easy to drain
Its too deep for kids and people with disability
5. Meditub 30×60 Right Drain Bathtub
The Meditub 30×60 Right Drain bathtub is fashionable, sturdy, and practical if you have limited bathroom space.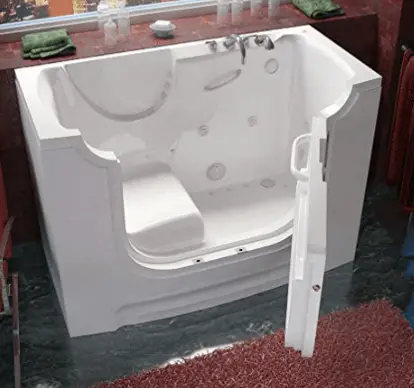 It is also suitable for mobile home installation thanks to its compact size.
Its construction features a treble gel reinforced with fiberglass and a stainless steel frame for durability and sturdiness.
It comes with a built-in ADA compliant bathing seat, safety grab bars, and slip-resistant floor to ensure enough safety uring a bath.

Despite its size, it comes with 16 air injectors with a 1HP  powered air blower for a smooth bathing experience.
What's more, its door ensures a wide opening and low threshold entry for wheelchair accessibility.
Easy to clean
Sturdy and durable
Extra-wide door for convenience
ADA compliant bathtub
6. Fisher-Price 4-in-1 Sling 'n Seat Tub
This Fisher-Price is a bathtub with a seat for a baby. It is useful in a variety of ways, including as a sling for newborns, inserts to prevent slipping and sliding, and as a sit-me-up, support to keep babies steady in the tub.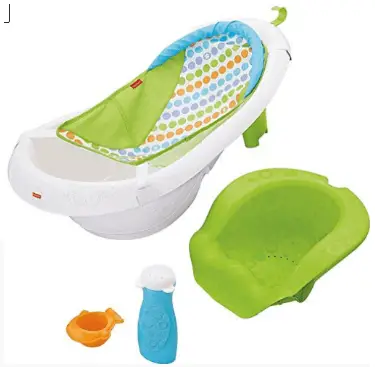 The tub grows with the baby since you can remove the insert once your child has outgrown the seat, and he'll have plenty of room to splash.
For washing, the tub comes with a squeeze bottle and scoop, as well as a hanger for convenient drying and storage.
It's roughly 30 inches long and weighs less than 5 pounds, making it a typical baby bathtub size.
Easy to drain and clean
With hooks for convenient storage and drying
It is useful in several baby growth stages
It comes with non-slip inserts
Disassembles in many parts which can be misplaced
7. First Years Sure Comfort Deluxe Tub
Although budget-friendly, this convertible baby bath will last you from the neonatal stage to the first year. Ie it ensures you use it from the infant to toddler stage of your baby.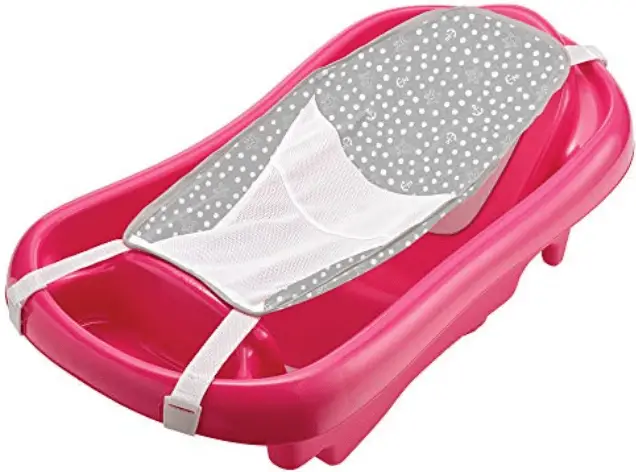 The tub features padded seating portions on either side of the tub — one reclined for newborns, and the other upright for older babies allowing you to bathe your newborn more comfortably.
It has a built-in storage compartment that can store baby's bath-time materials and doubles as a clean-water basin.
It fits over single and double sinks and can also work over the main bathtub. 
Additionally, the tub measures around 30 inches in length and weighs just over 2 pounds, making it light enough to hang on a hook when not in use.
Available in pink and blue
Ergonomic design with non-slip pad
Wallet-friendly price
Mildew resistant and easy to clean
Baby can wiggle out of the sling
Our Top Three Picks
ARIEL Platinum BT-150150 Whirlpool Bathtub
Featuring a premium acrylic construction reinforced with fiberglass, this bathtub does not only provides exceptional durability but also completes the bathroom appearance. It is easy to clean, easy to install, and lightweight innovative design. 
Ariel EZWT-3060-SOAKER-R Bathtub
A freestanding heavy-duty walk-in bathtub that is long-lasting. It is constructed using reinforced fiberglass coated with resin for an elegant appearance. Moreso, it is  ADA compliant and features a safety grab bar and textured bottom.
American Standard Gelcoat Value Whirlpool
Apart from boasting a world-class company name (American Standard), this bathtub also features a durable design.
It comes with a built-in seat and legs massage system for a soothing and therapeutic bathing experience. You can check more portable whirlpools for bathtubs if this is the type of bathing comfort you fancy.
Conclusion
The bathtub you choose determines how your bathroom and the general decor should look. With the appropriate design, shape, and style, you can transform your ordinary bathroom into something that rivals a luxury spa.
We came up with this guide to assist you in selecting the best bathtub with an inbuilt seat to transform your bathroom. If you need more options for seniors, check out the recommended bathtubs for elderly people and have more choices.
Factors to Consider Before Buying Bathtubs with Built-in Seats
Ensure you get a bathtub that can fit in the space that you have. Limited space calls for small bathtubs.
Consider safety features such as slip-resistant bathtub floor and supporting bars especially if a member of the family has limited mobility.
Ease of cleaning, draining, and the way the tub rhymes with your decor is also another consideration.
Also, consider comfort features and durability. Some materials such as fiberglass are more durable compared to acrylic.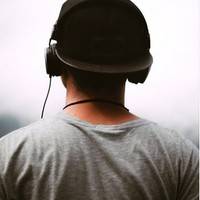 As a homeowner, I am specifically keen on home improvement. I am passionate about homes, yards, and home improvement. I blog on home ideas and reviews on solutions that make homes better.