Many people are likely to get stranded when choosing the best sink materials that are suitable for their kitchen.
This is because there are different materials that are used to make kitchen sinks, each with its own pros and cons.
To solve the problem, it is therefore important to go through several types of sink materials in order to come up with a decision on the type that you need.
Best Kitchen Sink Materials, and the pros and cons of each
While there are various materials, the best kitchen sink materials are stainless steel and ceramic clay, depending on your preference and the pros and cons of each of them.
To understand more, let's explore each of the most common ones. Here are various types of sink materials you can choose from.
1. Stainless steel for kitchen sink
Stainless steel material is an alloy of iron with chromium that should not exceed 10.5%.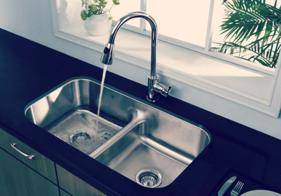 Kitchen sinks made of stainless steel are the most used sinks and are more popular in the markets than other sinks.
As a kitchen sink material, stainless steel is usually classified in terms of gauges.
The gauge range of stainless steel kitchen sinks is between 18 and 22.
Sinks with heavier gauges are preferred to sinks with lighter gauges because they make your sink better. 
This is mostly because the heavy gauge is less noisy and does not dent easily. Read our guide on stainless steel kitchen sinks, and learn our 4 best choices.
Pros and Cons of Stainless Steel
Stainless steel material is durable and it retains its appearance if it is cared for.
It is less expensive compared to other sinks materials.
It is more resistant to stains and heat.
It is very easy to clean.
Sinks made of stainless steel material have an attractive and modern appearance.
Stainless steel sinks are compatible with almost all types of cabinetry.
Stainless steel material makes sinks of variety of sizes, styles and finishes to choose from.
Stainless steel is lounder than other sinks materials.
Stainless steel material scratches more easily compared to other kitchen materials
Stainless steel sinks that are made of light gauges tend to dent easily
Stainless steel material is mostly available in one colour.
Just like all other sink materials stainless steel requires much commitment to maintain its cleanliness.
2. Cast iron as a sink material
This material is made of cast iron. Cast iron sinks are a popular type of sinks despite being one of the oldest materials design for kitchen sinks.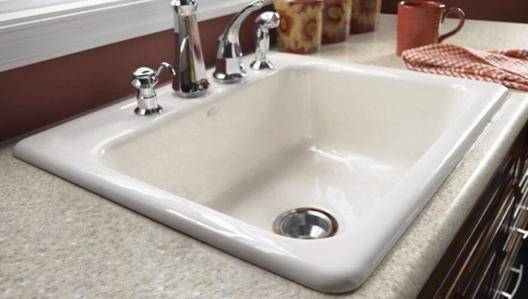 The iron material must be finished with a heavy porcelain enamel due to the high rates of iron rusting.
This enamel finish is made of extremely hard melted glass and not just rare paint.
It helps in making sure that the sink resists stains and scratches for a long time. Therefore, it is good for outdoor kitchen sinks for those who need them in their yard.
The enamel is important in making the sink smooth due to the normal rough state of cast iron.
The cost of cast iron sink materials varies depending on the sizes, shapes, and colors.
Pros and Cons of Cast Iron
It is very easy to clean.
Porcelain enamels used to finish the iron material do not fade easily.
Porcelain enamels are resistant to light.
Sinks made of cast iron material are durable.
This material can be easily customized to suit your own kitchens decorations.
Cast iron sinks are available in different sizes, shapes and colors giving you variety of options to choose from.
Cast iron material is heavy.
Installation of sinks made of cast iron is difficult due to the fact that they are heavy.
Cast iron material is much more expensive than stainless steel material.
If the iron base material is exposed due to the cheeping of the enamel it will begin to rust.
3. Copper sink material
Copper is a malleable, soft and ductile metal that is a good conductor of heat.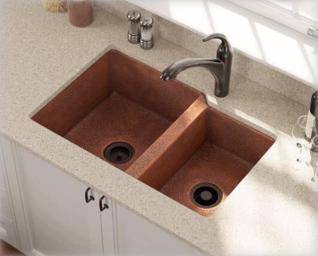 The good thing about Copper is that it makes sinks have some uniqueness and beauty, different from the rest.
In addition, it has some familiarity that one sees on the first look in the kitchen.
Copper makes sinks thick. The thickness of these sinks is measured in gauge just like the stainless steel sinks.
It's good noting that it is this gauge that also determines the loudness of the sink. The lightness of copper makes it a good material to make a handmade DIY sink, especially for survival.
Sinks made from copper are mostly handmade. The appearance of the sink depends on the brilliance of the craftsman and are available in different varieties because of the different craftsmen involved.
The sinks made of copper material may have problems such as poor drainage and damage if hit by hard material.
It is, therefore, advisable that you be issued with a warranty before purchasing the sink. These copper sinks develop a natural finish known as patina.
Pros and Cons of Copper
Copper sinks are easy to maintain when patina is formed.
Sinks made of this material are beautiful and have a unique design.
Sinks made of this material are available in different styles and shapes.
The patina finish that is formed on the copper material helps hide scratches that may be formed on the sinks.
Sinks made of these material are said to be anti-microbial meaning that bacteria can't survive for long on them.
Copper is a durable metal.
Cleaning utensils using wax can destroy the patina that forms on the copper and the ant-microbial properties
Patina can be eaten up by acidic liquids leading to the sink losing its shape.
Copper kitchen sinks finish can be easily ruined by hot pans and utensils
Water spots can develop on copper if not wiped after use.
4. Granite composite kitchen sink material
Granite composite sinks material is made of a combination of crushed granite with a resin filler.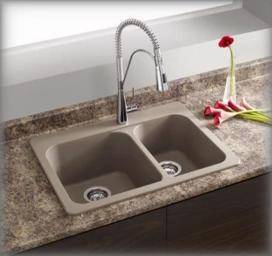 The mixture consists of 80% granite and 29% stone but it varies depending on the manufacturer and the product itself.
The mixture provided produces the same qualities as those of pure granite.
This material makes sinks feel and look like natural stone.
Another form of composite sinks is the quartz composite which is made by following the same procedure used in the granite composite.
What makes it a good sink material for your kitchen there are plenty of colors, finishes, sizes, and shapes to choose from making you not get tied to a particular option.
However, waterborne minerals can make the finish on the granite composite fade and become dull if the sink is not regularly cleaned.
At the same time, the installation of sinks made from granite composite material is hard and one may require extra support.
While granite composite is one of the best kitchen sink materials, it is also expensive compared to other types because they are scarce.
Pros and Cons of Granite Composite
Granite composite does not discolor or fade when exposed to heat.
Granite composite material makes sinks more durable.
comes in different colors
Granite composite is resistant to scratches and tough on stains.
the sides can fade easily.
Complex Installation process
Sinks of this type require a lot of attention in maintenance.
Very few granite composite sinks are produced.
Are expensive
5. Fireclay kitchen sink material
t's a work of molding. Ceramic clay is molded into the shape of a sink and is dried in high temperatures for up to forty hours.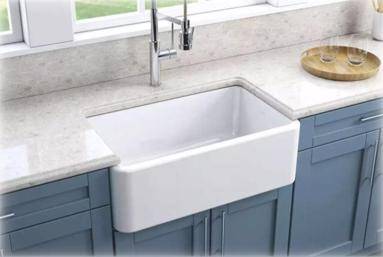 After this, the sink is applied with a porcelain enamel and then placed in a tunnel kiln.
The kiln has very high temperatures for up to twenty hours.
As a result, the heat makes sure that the enamel and the clay stick together strongly.
The end product is a ceramic material that is very hard and almost resembles the enamel cast iron.
The distinguishing feature is that fireclay material sinks have that handcrafted quality and can be molded in any design which relies on the manufacturer.
Fireclay sinks are expensive and have only one basin because they are mainly made for farmhouse purposes.
Pros and Cons of Fireclay
Fireclay material is durable.
The material has a pleasing appearance to almost every homeowner.
Fireclay sinks make it easier for the user to clear residue on the counter because they have no lips protruding over the counter.
Sinks made of fireclay are resistant to acids, scratches, and alkali due to the presence of hard enamel.
Sinks made of fireclay require very simple maintenance and are easily cleaned.
Due to the weight of fireclay material, it is recommended that installation be only done by professionals.
Unlike other sinks, fireclay sinks are limited in terms of colors available.
The fireclay material can crack over time.
Expensive
6. Acrylic Kitchen Sink material
This consists of plastic, resin, and fiberglass all combined together to form polycarbonate known as acrylic.

What makes acrylic one of the best sink material for your kitchen is that it can be easily molded to make sinks of different shapes and sizes.
The solid material of an acrylic kitchen sink is lightweight in nature.
Pros and Cons of Acrylic
The acrylic material is attractive.
Sinks made of acrylic material are cheap because the components that make it such as plastic, fiberglass, and resin are cheap too.
The material is good for retrofits and any countertop material because of its lightweight nature.
The plastic is resilient and prevents you from breaking your utensils made of glass.
The material is resistant to stains and scratches can be easily polished out.
Sinks made of acrylic material come in different shapes and sizes.
Its lightweight nature makes installation simple.
The polycarbonate material gets destroyed by petroleum-based materials.
It is not resistant to heat and might burn leaving ugly marks on the sink surface.
When plastic come into contact with metallic objects that make up the sink, vibration may occur and may lead to leaks.
Just like all plastic materials, acrylic made sinks scratch easily.
This material is the least durable compared to other sink materials.
7. Solid surface kitchen sink material
This material is made of minerals, polyesters, and resins.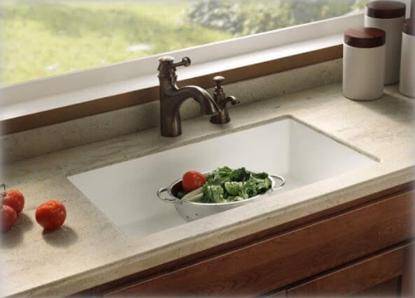 It was introduced by a company known as Dupont in the 1960s with the trade name Corian.
This material looks exactly like a natural stone.
It was mainly used as a countertop material. Sinks made from this material are way far cheaper compared to sinks from natural stone
However, manufacturers found another use of it in making sinks. This material can make an even better sink if it is designed as an offset sink because of better drainage, Check our guide on offset sinks to learn more.
The use of solid surface material became a common style. This material has a pleasing appearance. It has a wide range of colors and finishes to choose from.
Some of the kitchen sinks made from this material include the recessed apron sink, the plain apron sink, and the Drainboard sink.
Pros and Cons of Solid surface
It is a material easy to clean.
The non-porous surfaces help prevent bacteria.
Cheap
Scratches on this material can be sanded out easily.
This material is waterproof and there is no need to mind about water damages.
When they spoil they can be easily repaired
Sinks made of this material come in different sizes and shapes.
This material is not suitable for heavy usage.
It requires regular maintenance and needs to be sealed to prevent harboring bacteria which may be tiring sometimes.
This material is heavy and requires professional installation and manpower.
It is not strongly resistant to heat and therefore not advisable to place hot pans and pots on it.
8. Concrete sink material
Concreate is made by a mixture of cement water, gravel, and sand, which forms a sink material.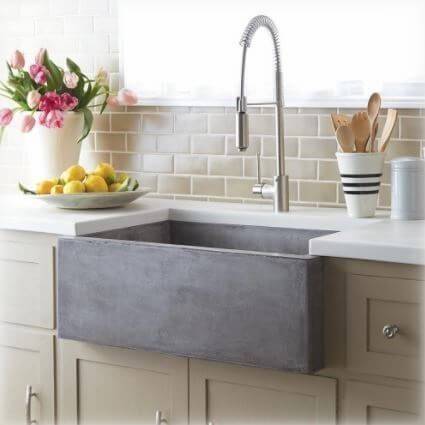 Concrete sinks involved this mixture being shaped to become a sink.
This makes your sink unique because concrete will be customized specifically as you wish.
It is difficult to find your own design somewhere else.
Therefore, most of them are customized to the design of the user and the size of your kitchen.
In this case, you can consider your opinion because what you regard beautiful is what will be made for you.
However, concretes are heavy and require support during installation that will always keep them firm.
At the same time, concretes as a kitchen sink material are hugely affected by scratches and stains and therefore should be often sealed.
Pros and Cons of Concrete
It is a durable material because concretes are very difficult to damage.
In cases where cracks occur, they can be easily repaired.
You can customize
You chose the color of your choice.
Features such as Drainboards can be built in concrete sinks.
This material needs professionalism for it to be installed.
Though durable, cracks and chips will end up happening on concretes.
Cracks require urgent repair to avoid them from getting worse.
Heavy material
Can get scratches
Verdict on the best kitchen sink material
Though everybody is entitled to their own opinions, stainless steel kitchen sink material happens to be the best among the other materials.
The advantages of the sinks made of stainless steel are better and more preferable. Stainless steel kitchen sinks are durable just like all other sinks.
Kitchen sinks made of stainless steel material are also cheap making it easy even for the one with a low budget to acquire them. This material is also a material for bathroom sink as well.
These sinks also fit on to any house design. The material is resistant to heat and therefore there is no need to panic when placing hot pans and utensils on the sink.
This material is also very easy to clean and rarely stains compared to all other kitchen sink materials. But you need to learn how to maintain them well to ensure easy cleaning.
The disadvantage of being noisier can be solved by acquiring a thicker stainless steel sink.
Statistics prove that stainless steel material sinks are the most used sinks compared to all other types.
This shows that it was what most people prefer and regard as their best kitchen sink.