Man for ages has practiced water purification of borehole water. They range from simple methods to complex ways. Purification of water usually involves the removal of impurities, residue, or hardness.
If you use borewell water or lives off the grid, here are some suitable non-electric water purifiers that you can use to purify water at home and beyond. While they are effective, it is good to understand how these purifiers work and some of the reasons why such water needs purification.
How do you purify bore water naturally?
One of the most natural ways is applying sunlight. The use of sunlight or using ultra-violet rays purifies hard water is one natural way. UV rays help in the killing of harmful microbes in the water. In addition to this, allowing sediments to settle on the bottom of the container before decantation.
While there are many ways of purifying water at home, boiling stands out as the easiest and most common. Boiling also purifies your water by getting rid of harmful microbes, air, and minerals like calcium. Alternatively, filtration using a sieve ensures that physical impurities are removed from Borewell water.
Why is borewell water not safe for drinking or cooking?
There are numerous health concerns when it comes to borewell water. Partly, this stems from the idea that unlike other purified sources like rain, structured supply, or on branded water, borewell is rarely subject to purification.
The first threat of safety is from inorganic contaminants. These include heavy metals like arsenic fluoride and lead. These heavy metals are linked to cancer, teeth discoloration, and the poisoning of mammalian systems, respectively. Their presence attributed to the natural occurrence in rocks or human activities mean the easily find their way to underground water tables.
Another safety concern is micro-organisms. Boiling water kills microorganisms, but these are not the only contaminants in it. At the same time, most of the borehole water is hard water, which needs and reduce hardness.
Boiling is still a way of doing this. However, compelling evidence suggests that heavy metals are rarely removed from borewell water through heating.
Therefore, it is advisable not to use hard water for cooking or drinking purposes. Not all minerals are harmful; some are required in trace doses like Flouride, Calcium, and Magnesium. High doses of such are detrimental to the body.
How does a non-electric water purifier work?
As the name suggests, this purifier does not use electricity. Non-electric water purifiers use scientific principles like gravity and pressure for purification. Considering water has sediments and unseen minerals, these purifiers incorporate, activated charcoal and sediment filters.
Sediment filters serve to remove the solids present in water like suspended matter, silt, and sand using cellulose cotton filter that sieves. However, this is not possible for dissolved solutes.
Activated charcoal owing to its absorbent properties is efficient in the removal of minerals and organic compounds. These chemicals readily get absorbed from the water, which activated charcoal a good non-electric water purifier for borewell water.
Another benefit of using activated charcoal in these purifiers is its removal of odor and improvement of water taste. As for microbes (Germs and viruses), halo fibers of the UF filter system acts as a "catcher."
Best non-electric water purifiers for borewell water
1. APEC RO-Hi Top Tier Water Filter System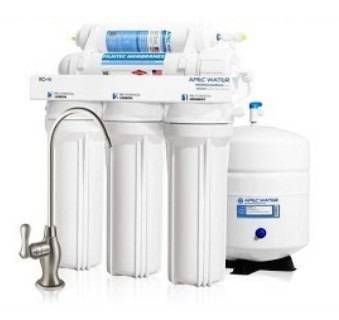 The name suggests this 16 x 17.5 x 5.2 inches' purifier is useful if you desire high output purified water.
The 26.9 pounds the US manufactured purifiers system lasts for decades besides, it has a 3/8 quick dispensing ability from storage to the faucet.
The five-stage purification process includes sediment filtration, carbon block color, and odor removal, high rejection TFC reverse osmosis and coconut shell refining carbon.
Two-year warranty and life-time service from the manufacturer is an added advantage for buyers of this purifier. APEC RO HI Top tier is clog-free despite its voluminous output and rate.
The durability of the purifier system is commendable; given they are replaceable after a year. This translates to lower maintenance costs often associated with purification systems. The pricing is reasonable, considering efficiency and capacity.
Pros
Has 2- year warranty
Has high output
Fast flow
It is clog-free
2. iSpring RCC7AK 6-Stage Under Sink Reverse Osmosis Filter System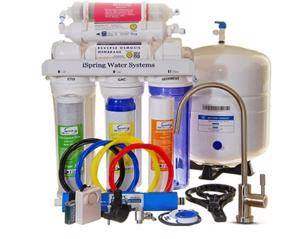 If you want to soften your hard water for consumption, look no further.
This 20 pound under the sink mounted water purification system comes in handy.
The pricing is largely a fair bargain if you compute the long-term savings.
The system uses RO System, has a Brushed Nickel faucet, a storage tank for the purified water, and filter Cartridges with RO Membrane. It is fairly small, considering it is 14.5 x 6 x 17 inches in dimensions and its six-stage reverse osmosis system.
One outstanding feature of this purifier is clear to see stage 1 of filtration, making inspection easy. What makes it a suitable non-electric water purifier for borewell water is that the purification system uses reverse osmosis to remove mineral contamination.
These vary from dangerous, Lead, Arsenic, Asbestos, Sodium, microbes, Calcium et all from your water.
A final Alkaline re-mineralization stage is ensuring the replenishment of essential minerals lost during the reverse osmosis stage. This is a departure from the 5 stage purifiers which lack natural taste owing to the absence of re-mineralization.
The installation is an easy process that doesn't need threads. There is an installation manual. Alternatively, you can contact the care center to assist in installation.
Pros
Has high capacity
Has Alkaline Remineralization
Natural Ph
Easy to install
Uses RO system
Cons
Not sure of removal of all metals
3. Home Master TMAFC-ERP Artesian Full Contact Undersink Reverse Osmosis System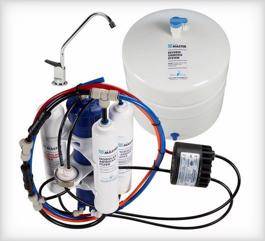 One outstanding feature of this purifier is its patented full contact technology, which re-mineralizes purified water with Magnesium and Calcium ions.
The TMAFC-ERP Artesian filer system ensures that most minerals like arsenic and poisonous metals like Lead removed from your water.
The purifier has a relatively small weight of 25 pounds with a 16 x 5.2 x 17.5 inches' dimension. Once you understand how reverse osmosis works, you will appreciate the value that comes with this water filter.
If the one-year warranty is not incentive enough, the fair pricing should be. The TMAFC-ERP Artesian is a respected water filter in the market as a non-electrical purifier. It has a system capacity of 50 gallons per day with long-lasting replaceable filters.
TMAFC-ERP Artesian system also purifies water from Ph levels as low as 2 to as high 11. The 2000particle per minute dissolved speed clears particulate matter at a fast rate than contemporary 5 stage purifiers. Installation is easy, and buyers are furnished with leak-free quick connect fittings.
Pros
Removes some carcinogenic impurities
Purifies on varied water Ph levels
Uses full contact technology
4.APEC Top Tier 5-Stage Reverse Osmosis Water Filter System (ESSENCE ROES-50)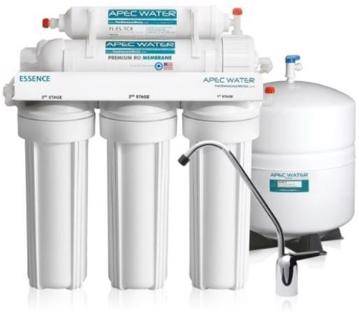 The purifier comes with a designer chrome faucet (lead-free). This US-assembled comes with an FDA JG certification.
Filter replacement is an easy process that takes a few minutes.
APEC comes at a slightly heavier weight of 25 pounds and measures 16 x 5.2 x 17.5 inches.
It is a functional non-electric water purifier for borewell water with five stages of the purification process. One is a high-capacity polypropylene sediment filter that removes sediments.
Then activated carbon block absorbs minerals and bad odor. Fourth, is the reverse Osmosis stage, where removal of dangerous minerals and dissolved solids (TDS) occur.
A final coconut shell carbon absorbs any remaining odor from the water and improves its taste.
Pros
Uses reverse osmosis
Easy replacement
5. Tata Swach Non-Electric Cristella Plus 18-Litre Gravity Based Water Purifier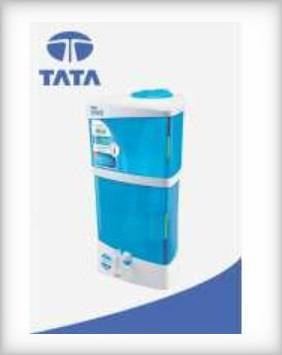 This Indian developed purifier utilizes gravity and Nano-technology to carry out purification.
The tabletop purifier is of medium size compared to its contemporaries. The design is fairly simplistic and lacks a faucet.
Instead, a buyer of the Tata Swach Non-Electric Cristella Plus will have to contend with a small tap similar to a traditional water dispenser.
Tata purifier comes in a wide array of colors and reputed to have the 18-liter capacity.
A conservative figure is going by huge household estimates. It also doubles as a purifier and a water storage tank. Apart from its fair pricing, this plastic container purifier has a modest warranty of 6 months.
Pros
Simple design
Comes in different colors
Has water storage tank
Our Verdict
The APEC Water Systems Ultimate RO-Hi Top Tier Filter is our pick since it is fairly priced for the value it gives. The APEC Water Systems Ultimate RO-Hi Top Tier Filter makes has a fast flow rate, which translates to less wait time.
The 5 stage purification system means a drastic reduction of impurities, not to mention the lead-free faucet that compliments the system.