The majority of modern houses have bathtubs in them. This is a large container that holds water mainly for the purposes of bathing. Today's bathtubs are made of durable materials such as fibreglass, cast iron, enamel or acrylic.
Additionally, there are more advanced options such as waterproof wood. As a homeowner, you have to select the best bathtubs that can last long and withstand harsh weather conditions. 
Also known as a bath or simply a tub, it is good to place it as a standalone in the bathroom. However, other homes choose to place it adjacently to the shower. It all depends on the preference of the homeowner. 
Modern bathtubs are different from those of ancient days. Overflow and waste drains have been included with others featuring mounting of taps.
Unlike in the past when most tubs were necessarily rectangular in shape, there are now more options of different shapes. This has become possible since the introduction of acrylic bathtubs. 
What Is Bathtub Peeling/Flaking?
Just like any other home property, bathtubs are also prone to damage and wear. Peeling or flaking is the scraping of its original finish.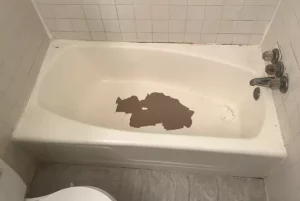 After using the bathtub for some time, damages arise leading to peeling of the tub finish. This usually occurs as a result of the external factors that affect the protective coating of the bathtub. Also, scratching is one of the major causes of peeling. 
Peeling is a common problem in today's tubs. However, it is important to know that this problem does not mean you have to replace your entire bathtub.
Peels that happen on only a section of the tub are easy to fix. It is possible for heavy objects to drop onto the surface of the tub and cause peeling. The impact can cause flaking even when the hardest material was used for finishing.
Also, bathtub peeling is simply unavoidable when you use poor cleaning methods. For instance, the use of scouring pads and other harsh cleaning materials are likely to cause peeling.
Far from that, there are tubs that come with poor finishing which affects their durability. Peeling and glazing is inevitable if the top finishing was not given ample time to dry. 
Causes Of Bathtub Peeling Or Flaking
All bathtubs come with a layer of paint which serves as a protective layer between the water and the external surface of the tub. With improper care and maintenance, peeling is inescapable. Here is a look at some of the major causes of tub peeling:
1. Bad finish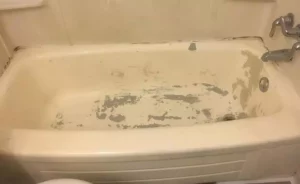 The surface of the tub should be of high quality. If the refinishing is not of high quality, peeling is bound to occur after some time.
It usually starts with the formation of pores and bubbles which can expand and cause peeling.
Poor finishing is actually the leading cause of tub peeling. Harsh conditions, heavy objects dropping on the surface and temperature changes can easily affect a poor finish. 
2. Damages you do not attend to
When you notice slight damage to your bathtub, fixing it as early as possible is the best solution. Heavy objects falling on it or effects of harsh temperature conditions end up making the chip start glazing.
When this starts, fixing should be done immediately before moisture starts penetrating through the cracks. Early repairing will prevent the worsening of the damages thus preventing the paint from peeling. 
Read on how to make a concrete bathtub and its pros and cons.
3. Long term wearing and tearing
Just like other home equipment, a bathtub can get older. This is a clear indication that peeling is bound to occur on its own because of old age. A period of 10 years is usually a clear signal that refinishing or glazing needs to be done in order to avoid bathtub peeling. 
How To Fix A Bathtub Peeling
It becomes a challenge for homeowners to know when to fix or replace the bathtub after peeling. If the peeling has not affected a bigger surface, fixing it will be cheaper.
For starters, let the tub dry completely so that there is no moisture. Proceed to roughen the area where peeling is evident. This can be easy if you use fine sandpaper or grit. 
During the sanding process, do away with all the loose edges and peels from the surface you are working on. With the use of a piece of cloth, wipe away all the debris and rubbles that occur as a result of sanding. 
Different methods can help you to fix your bathtub peeling problem. It all depends on the level of damage and the material of the surface. The lack of proper maintenance can also lead to rusting or yellowing, know how to deal with it with ease.
Apart from refinishing the tub, the use of putty to fill the cracks can apply if the peeling was small. However, if you are not familiar with these methods of repair, you can involve a professional to help you fix the bathtub. DIY methods can cause further damages if you do not have proper knowledge. 
How To Prevent Bathtub Flaking
The best way to achieve this is through proper care. If you notice any cracks and chips, tackle them as early as possible to prevent flaking or peeling. You can hire professional bathtub refinishers to handle the situation.
Professionals can be able to treat all possible flaws and imperfections that can cause the tub to flake. Coatings or putty application should be given sufficient drying time to prevent future peeling.  As you allow for enough drying, suit yourself to one of the many portable bathtubs in the market.
A good upkeep on the surfaces that surround your bathtub is also a remarkable way of preventing damages that always lead to flaking. In addition, perform all the daily or weekly maintenance routines of the tub. 
Tips On How To Make Your Bathtub Long Lasting
Regular cleaning of the tub is one of the ways to make it last longer. However, the choice of cleaning solutions and scrubbing materials will also matter.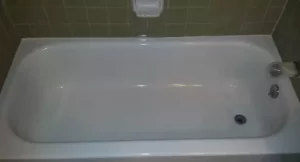 The cleaning solution need to match the type of tub you have and it should be the least toxic.
Scrubbing should be done with a smooth and gentle brush to avoid causing scratches which can lead to peeling. 
Furthermore, the cleaning solution should be let to set on the stains, then rinse and dry.
If the results are not good, use a stronger solution. Acrylic, fibreglass, porcelain and enamel materials all require different cleaning solutions for them to last longer. Pick the best paint for your sink to add to its aesthetics.
The jets of the bathtub are delicate. To make them last longer, flushing out and cleaning them on a monthly basis will boost the lifespan. Also, scrubbing the entire tub should be a monthly routine. 
This helps to remove all stains from the tub. In addition to this, ensure you thoroughly rinse the tub after each use.  A weekly routine of spraying it with a gentle cleanser will be a positive measure. Lastly, avoid heavy objects falling on the tub to deter scratches that end up causing peeling. 
FAQs
1. Is bathtub peeling a danger?
The paint chips and peels are unlikely to cause any health hazards or physical dangers to the user. The only danger of peeling is the fact that the bathtub will not last long. 
2. What to do when there is bathtub peeling in my apartment?
You can apply simple DIY fixing methods to take care of the problem. Alternatively, you can hire a professional to take care of it.
3. Why is my bathtub paint flaking?
Flaking occurs as a result of general wear and tear caused by old age. Improper caring methods and leaving damages unrepaired for long are also reasons for paint flaking. 
4.Bathtub paint peeling for landlords?
The repairs of tub paint peelings depend on the leasing agreement with the landlord. However, government landlord and tenants act generally supersedes any leasing agreement rules. The landlord has the responsibility of taking care of paint peeling repairs for your tub.
5. What is bathtub peeling repair kit?
The repair kit refers to tools that are necessary for the repair process. Sandpapers, refinishing tools, respirators and masking tapes are some of the items in this kit. Ensure you select a kit that can work on the type of bathtub you have.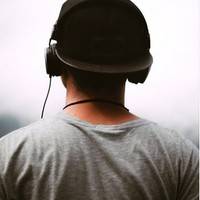 As a homeowner, I am specifically keen on home improvement. I am passionate about homes, yards, and home improvement. I blog on home ideas and reviews on solutions that make homes better.