It is never a pleasant experience when your dwellings or workplaces are under the infestation of pantry moths. With such a problem, having some pantry moth traps that really work will help a lot.
You may feel like banging your head against a wall when you lack an elegant solution to exterminate moths from your kitchen or home. Pantry moths are a nuisance unless you take a measure to control them.
This article is a comprehensive review of 12 the best of pantry moth traps and killers by exploring the most effective traps, sprays, and repellents.
After all, your critical need is to eliminate them and enjoy a bug-free environment.
Best Pantry Moth Killers and Traps
The table below presents simplified details of the entire article and gives a brief of the best pantry moth killers in terms of traps, sprays, and repellents.
This review will help you to identify the right choice quickly. Let's walk you through the whole process. 
| | | | |
| --- | --- | --- | --- |
| Product Name | Brand | Details | Selling Point |
| 1.Dr Killigan's Traps | Dr. Killigan's | Easy to set up. It has glue to catch male moths while ending further fertilization and reproduction. | Toxin free, environmentally friendly with an attractant. |
| 2. Catchmaster Moth Traps | Catchmaster | The presence of pheromone holds male moths firmly to limit any other activity. | Toxin free therefore safe for use around pets and children. |
| 3. Greener Mindset Pantry Moth Traps   | Greener Mindset | Contains a hook to hang anywhere with an attractant to draw in more males. | They will protect your clothes against destructive moths |
| 4. Flour and Pantry Moth Trap | Biocare | Toxin-free with pheromone to work on moths. | Preassembled design to lure food moths. |
| 5. TERRO T2900 Pantry Moth Traps    | Terro | Toxin free elements and eradicates all food moths | Folded design to prevent kid from accessing the sticky side |
| 6. Reefer-Galler SLA Cedar Scented Spray   | Reefer-Galler | Kills all types of moths | It is eco-friendly. |
| 7. CB-80 Contact Aerosol Insecticide    | CB-80 | Kills all types of insects and moths | Instant killing |
| 8.Carpet Moth Killer kit | Mothkiller kit | Has both spray and traps | Unlimited killing options   |
| 9. Richards Herbal Moth Repellant   | Richard Herbal | Uses natural ingredients to repel | Toxin free |
| 10. Enoz Moth Balls   | Enoz Moth | Has tablets and sachets | Eco –friendly |
| 11. Enoz Naphthalene Moth Control Balls   | Enoz Naphthalene | Uses ball to create sublime | Naphthalene is a pleasant odor |
| 12. Household Essentials 35704 | Household Essentials | Uses cedar pieces and sachets | Nontoxic. |
Here, we comprehensively explore the best pantry moth killers, be it traps, sprays or repellents. There are multiple brands in the market to widen your selection options. The process of arriving at the best pick can be confusing.
Let's delve into it in details
1. Dr. Killigan's Traps
Product Description
Are you in search of an effective moth trap that is insecticide-free with no toxins? For a definite yes answer, then put Dr. Killigan's premium pantry moth traps in mind.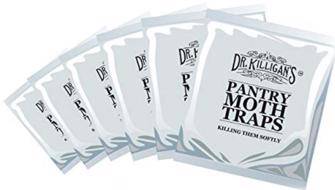 This trap is environmentally friendly while meeting the standards of EPA and USDA guidelines.
Dr. Killigan's Traps is a product that will thoroughly eliminate the pantry moths if applied correctly.
For starters, you place the traps in places where you suspect the moths are frequenting.
The perfect position should be in an open space for proper ventilation to enhance their effectiveness.
Functional
The trap is unique due to its strong attractant. Besides, the structure has a high-quality sticky glue that catches males.
In the long run, the fertilization process will fail to happen hence gradually ending the reproduction.
Easy to-set-up
You will take the shortest time to set up the trap. The process involves three steps; You open, followed by peeling and folding.
After that, the trap is ready for use.
Pros
The trap is useful in the elimination of pantry moths.
It is eco-friendly since it contains no toxins.
It has multiple designs for the user to select their favorite.
The product includes an excellent packaging, sealed with a foil to protect the quality from premature expiration. 
Prevents any infestation in the future by altering the reproduction cycle and further food contamination.
Cons
It has limited options. It is effective on food moths like Indian meal moth and not cloth moths.
You may need a combination of other methods to eradicate moths.
2. Catchmaster Moth and pantry pest Traps
Product Description
Catchmaster Moth Traps proves to be among the safe traps on the shelves.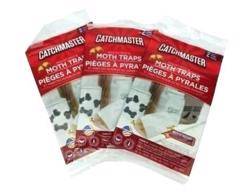 Firstly, the product contains no harsh chemicals and toxins.
You can satisfactorily use this moth trap without it interfering with your health.
Most importantly, you can safely use it around pets and children before disposing of it.
The pheromones in the Catchmaster Moth and pantry pest Traps lure males to control their reproduction activities. The glue can be valid for the next three months due to its proper packing.
Effective
Unlike other products, Catchmaster Moth Traps will target multiple types of moths. For example, the Tobacco moths, Mediterranean Flour, and Indian meal moths. For better results, place the trap around grains, nuts, and dried foods areas.
Compact
The Catchmaster Moth and pantry pest trap has optimal dimensions to fit rightly on any area of your residence.
Furthermore, the product is lightweight (0.48 ounces). It has a proper design for storage in case you are packaging it for travel.
Pros
Its natural ingredients contain no toxin chemicals to cause harm to people and pets.
The top-quality glue catches more moles for three months effectively.
You can easily set up the Catchmaster trap to function and dispose of later.
The product is portable due to its compactness and lightweight design.
The product has affordable market prices.
The buyer enjoys warranty coverage.
Cons
Cannot eliminate cloth moles
3. Greener Mindset Pantry Moth Traps
Product Description
When you experience stubborn insects that munch your clothes, look no further than Greener Mindset Pantry Traps.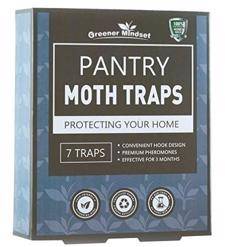 This trap will effectively get rid of these moths to end your fears of any economic drain.
Moreover, the trap contains no toxins, odors, and insecticides.
For what it's worth, the product is safe to use around children and pets.
Interestingly, the product has a powerful attractant mixed with glue.
The male moths will get lured into the trap and spare your clothes. 
Hook Design
The trap contains a hook to allow the user to hang it anywhere in an attempt to protect the clothes. All the bugs will rarely escape the trap as they munch many textiles in your house.
Easy to Use
The package consists of the most uncomplicated procedure to use. You only require to open, then peel and finally fold.
You will not need an additional product to increase its effectiveness. Each trap will serve you for three months.
Pros
It is effective in eliminating moles that feast on clothes and other fabrics in the house.
The trap includes a powerful attractant that draws more males into the trap for further control.
Greener Mindset Trap lacks dangerous chemicals hence safe for use around pets and kids.
The product has a hook for hanging at any potential place for more results.
It has an easy setup design.
There is a 100% money back policy guarantee.
Cons
Its prices are slightly higher.
4. BioCare Flour and Pantry Moth Trap
Product Description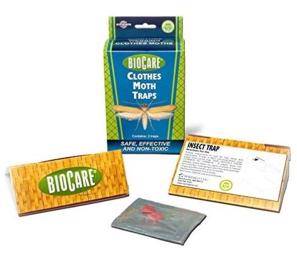 BioCare Flour and Pantry Moth Trap is an excellent product that covers the full area of about one square foot.
Its lightweight design that measures 2.4 ounces is an advantage for easier transportation.
On the face of it, the entire product consists of double sticky glue traps.
Another most important part is the pheromone to lure in the moths.
It will attract food moths like Indian meals and the Mediterranean moths.
Safe to use
The BioCare Flour & Pantry Moth Trap is toxin-free with no pesticides. You will not have to worry when using around pets and kids in the house.
It can serve you for three months. Alternatively, replace the trap immediately is full.
Pre-assembled design
As you purchase this product, it will come while already pre-assembled. The model consists of pheromone attractants, the trap, and pre-assembled flour.
The only action you require is to place the BioCare trap in a perfect area for action.
Pros
The pantry moth trap will effectively eliminate all the food moths in the house like raisins and almond moths.
It has natural ingredients with no toxic chemicals to pose any threat of life to humans and pets.
The product can serve you for a long duration of three months due to its high-quality pheromone.
It has a pre-assembled design, which saves the time the user will take to set up.
The product has reasonable and affordable prices.
Cons
The product will not attract cloth moths
It is limited only to food moths.
5. TERRO T2900 Pantry Moth Traps 
Product Description
The exercise of eliminating stubborn moths calls for a dedicated move to end their rule.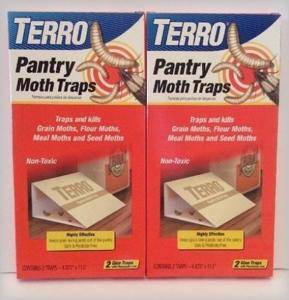 That's why you may require Terro T2900 to aid your steps of getting the insects out of your dwelling.
The product has the right ingredients to tackle the activities of moths and end them.
By knowing what pantry moths eat, then applying this trap is easy.
The whole design will trap and attract various types of moths. All of them are food moths categorized as flour moths, seed moths, and grain moths.
Notably, it is not suitable for controlling moths that munch the clothes.
It is an Attractant
The whole package contains a pheromone that has a strong attractant, which will excite moths to enter the trap. The glue will hold them and paralyze their movements leading to their death. 
Folded design
You can quickly identify this product by its folded design. The folded model makes it ready to use since you will not require any more set-up. More so, the package also includes non-toxic sticky traps.
Pros
Terro T2900 has natural, toxin-free ingredients, making them safe around pets and kids.
Its folded design will prevent the children from accessing the sticky part, therefore, making it risk-free.
The product can effectively eliminate all food moths, including meal moths, flour moths, and grain moths. 
There is a high-quality pheromone, which will cause the moths to get stuck and die in the process.
The prices of this item are relatively low.
Cons
The product cannot eliminate cloth moths. 
Best Moth killing Sprays and Repellants
The continuation of the list below focuses on sprays and repellants that can kill pantry moths and keep them at bay.
Sprays are good because moths are pests that can intrude on inner parts of your pantry and cupboards and feast on the stored foods.
Moreover, they can munch your clothes, causing further damage. Therefore, a spray can reach places that traps cannot reach.
6. Reefer-Galler SLA Cedar Scented Spray
Product Description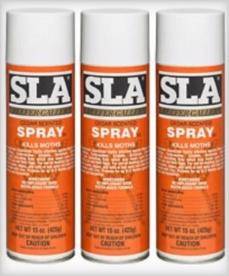 If you are looking for a moth repellant spray, then Reefer-Galler can be one of your options.
The scented spray has the potentials to kill all moths on contact.
The unique part of it is that it doesn't stain your belongings. 
The spray will automatically kill the cloth moths.
Besides, the effect will go to the destruction of the eggs and larvae.
You can take advantage of its effectiveness by protecting your fabrics from any infestation of the cloth moths.
Versatile
This product spray does not discriminate on killing moths only. It also kills other groups of insects found in your homes like flies, bees, butterflies, and more. Its fresh cedar scent cannot irritate the householder. 
Ingredients
The Reefer Spray has high-quality ingredients to make it compelling. It also has some natural ingredients which make it eco-friendly. 
Pros
The spray will kill all types of moths, whether the cloth moths or the food moths.
The chemical in the spray kills both the eggs and larvae hence ending all the chances of reproduction.
The natural ingredients in the product are eco-friendly.
The product is lightweight, which is convenient for portability. 
The product is versatile as it will also kill other insects in the surrounding like ants, bees, and cockroaches.
Cons
Has toxic chemicals are a threat to human life.
Its prices are slightly high. 
7. CB-80 Contact Aerosol Insecticide 
Product Description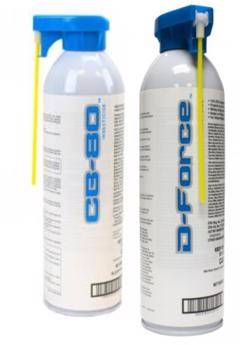 Are you a victim of moth attack, and you have no idea of what to do to eliminate these stubborn insects?
Here is a solution for you. CB-80 insecticide will kill all the pantry moths in your closet immediately. It kills as it contacts with them.
As if that is not enough, the insecticide also kills other insects like flies, spiders, cockroaches, and ants.
The list is endless, but you can be confident of its capacity to shorten the lives of all the insects it comes in contact with. 
Prompt
The CB-80 insecticide has an outstanding record of killing the moths and other insects on the first contact. You can use it at your workplace, home, school kitchens, and hotels.
If you were afraid of the embarrassment that comes with moths, locate these products on the shelves.
Compact Design
Cb-80 is lightweight, measuring 1.31 pounds. It has a dimensional design of 2.7 x 2.6 x 9.3 inches. Suppose your carrying bag has limited space, you can easily squeeze this product as you travel.
Pros
The spray acts fast to kill all the moths and other insects on the first contact. 
Its market prices are affordable to many.
The product is versatile as it can also get used in various places such as kitchen, hotels, workplaces, and homes.
The insecticide kills both flying and cloth moles instantly. 
It is portable due to its lightweight design.
Cons
It is not effective in killing food moths since it will contaminate the whole food. 
8. CARPET Moth Killer Kit
Product Description
Having a house that is under the dominance of insects and pests can give you sleepless nights since their damages are costly. Why can't you save yourself from the nuisance by buying Carpet Moth Killer Kit?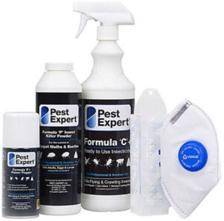 The kit contains a liquid you will use to spray and kill cloth moths alongside other insects like flies, bedbugs, and ants.
The product kills all the cloth moths leaving no traces.
For better results, the spray kills all the larvae and eggs to makes sure the reproductions fail.
You can rely on this spray when you want to get rid of all the moths in the house thoroughly.
Packaging
The Carpet Moth killer has a combination of all elements that can fight moths in your home. It includes Moth Killing natural spray, Carpet moth trap, and the natural dust. 
Safety
Before you use this kit, make sure you observe precautions to prevent further repercussions in your dwellings.
All you need to do is put away all the kids and pets when doing the treatment exercise. 
Pros
The product offers you options to choose; you can spray as well as use the trap to eradicate the insects in the room.
It kills all the moths, ultimately including their eggs and larvae, therefore, effectively ending their lifecycle.
The spray will kill all types of moths, especially cloth moths leaving your fabric safe from further damage.
The spray contains pests also to kill and control them in your dwellings.
The spray can be useful for two weeks from the time of spraying.
Cons
The product is slightly expensive.
It is not suitable for killing food moths because it contaminates potential food.
9. Richards Herbal Moth Repellant
Product Description
Are you looking for a pleasantly scented moth repellant? Don't worry since Richard Herbal Moth repellant has all the answers for you.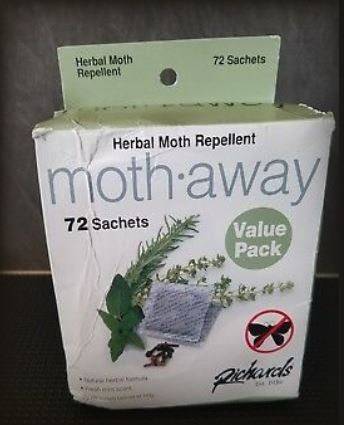 The smell is excellent and can effectively ward off moths from the pantry and in the surrounding space.
The ingredients in each packet of Richard's Homewares Moth Away Herbal Moth Repellent are thyme, cloves, rosemary, and a mix of peppermint.
For proper results, you should put it in closed areas.
These can be drawers or cupboards. You can also place it on the shelves.
Versatile
The repellants will repel not only food moths but also the cloth mills. Look at it this way; your garments will now be safe from further damage.
The full packet contains 72 sachets for your application.
Functional
You need to follow instructions for better results. Check the product to ensure that it is within its expiration period.
Its scent will keep away all the moths and other insects in the house thoroughly. 
Pros
Richard moth repellant will keep away all types of moths, whether cloth moths or food moths.
It has eco-friendly, which eliminates all the insects and moths in the surrounding.
The ingredients are toxin-free has do not pose a health risk to pet and human life.
The product is portable due to its lightweight design. 
It has fair prices that include a warranty.
Cons
Some people complained of an allergic reaction due to its scent. 
10. Enoz Moth Balls
Product Description
Enoz is a lavender-scented mothball that can kill all insects such as cloth moths and ants.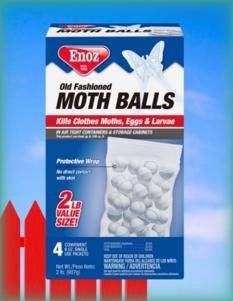 Furthermore, this product also destroys their larvae and eggs.
You can place the balls in drawers, shelves, and storage areas. 
Enoz moth repellant eliminates all the insects in the house.
You know what? Insects are not the right visitors since they compromise your hygiene.
If you locate a proper repellant like Enoz, utilize it fully. 
Tablets
Each packet has two lavender-scented tablets that repel the moths. Surprisingly, these balls will dissolve as time moves. You can replace them once they entirely vanish in the air. 
Lightweight
The whole package will weigh about 6.6 ounces, which is easy to carry around. It has a compact dimension of 6.5 x 4 x 2.1 inches to enable it to fit for storage in a limited space. These breathable packets will store well to balls ready for action. 
Pros
The repellant kills all types of moths and other insects that may want to dominate in your house.
Most of the ingredients in the product are eco-friendly and, therefore, not harmful to humans and pets.
The entire product is inexpensive; hence, it is affordable by many. 
The lightweight of this repellent is convenient for transportation.
It has a pleasant aroma that does not irritate the house occupants.
Cons
The product requires constant replacement since it loses its effectiveness when dissipates in the air.
11. Enoz Naphthalene Moth Control Balls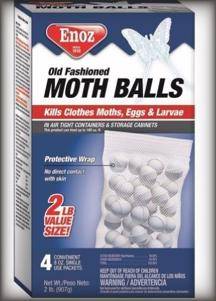 Whenever you want to eliminate the colony of pantry moths in your residence that is ever-multiplying, then you must seek for a solution.
Enoz Naphthalene Moth control ball will effectively paralyze the activities of these insects indiscriminately. 
It features a strong scent from Naphthalene, whereby the balls will emit the scent to repel the insects.
The whole box has 8-ounce packages of balls, whereby you can use each package at a time.
The scent is competent enough to ward off all the pantry moths in your closet.
Effective
The ball is powerful to kill both the eggs and larvae. It means that there is an assurance of no more reproduction will happen again.
The scent will kill both cloth and food moths hence reducing any consequences that come when you harbor them in your home.
Treatment
The balls emit the scent, which will cover an area of 75 cubic meters while thoroughly killing all the insects within the radius.
Furthermore, the packet allows the airflow to pass through it so that it can sublimate to produce results.
Pros
The presence of Naphthalene is strong enough to kill other insects and pests like bees, flies, and moths.
The product is budget-friendly since it is affordable.
All categories of moths like cloth and food moths will get eradicated by the action of this product.
The product is useful in stopping the reproduction of moths by also killing their eggs and larvae. 
The sublimate can travel to a comfortable distance of 75 meters kill insects.
Cons
Sometimes its robust and distinct odor may irritate some allergic persons.
12. Household Essentials 35704-I Moth repellant
Product Description
Household Essential 35704 has a track record of being in the usage by many over a long period.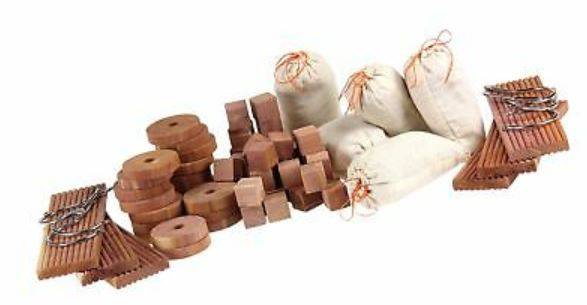 The package can repel the moths to leave your house with the freedom to pack your food and store the fabrics with no worry.
Also, the package contains 70 solid pieces of cedar to spread them throughout the home.
For better results, you can put these pieces in storage areas like the cupboards, cabinets, and shelves.
The repellent will ward off the pantry moths while keeping all your clothes from the danger of damage from potential cloth moths. 
Package
The entire package has excellent components that will end every trouble that you may encounter from the infestation. The value pack has cubes, hanger rings, sachets, and hung-up boards. 
Treatments
You can use the sachets to eliminate the moths that hide in drawers and cupboards. Place the cubes in convenient areas where moths can intrude. 
Pros
The pack is effective in warding off the moths in all the areas such as drawers and cupboards. 
The product has a pleasant aroma that is friendly to the occupants.
This cedar repellant is also ideal for an outdoor utility to get better results.
The prices are meager.
Its composition is from natural elements hence toxin-free. 
Cons
Its scent will disappear with time.
My Top 3 Most Effective Pantry Moth Killers
When the pantry moths infest your dwelling and the entire surrounding, it is never leisure at all.
These insects come with dire consequences to your economy due to their destructive nature. You can't watch all these happenings in the full glare.
We went through and assessed the capabilities of each product that can eliminate pantry moths. The publication summaries the recommendations that are our top pick as follows:
Among the pantry moth traps, Dr. Killigan Traps prove to be our number one recommendation.
Firstly, the trap is environmental- friendly, which meets the conditions of EPA and USDA. It has a high-quality attractant to seduce moths into the trap.
Besides, this product is popular and has many customer reviews who recommend it to others due to its effectiveness. Its excellent packaging will preserve the pheromone, which catches the moths.
In the pantry spray category, the Reefer-Galler SLA Cedar Scented Spray becomes our best pick.
This is because the spray kills all the insects and moths in your surroundings.
Furthermore, it is strong enough to kill the insects immediately after contact.
Also, it has a pleasant aroma that does not cause discomfort to the house occupants.
Moreover, many customer reviews are positive towards it, making it the most popular spray among those that kill moths.
Household Essentials 35704-1 is a moth repellant that works effectively to kill moths in your house.
The catch on this product lies in its design of both sachets and cedar pieces. You can spread the parts in your home for better results.
These product does not include chemicals that can harm human life. It has natural components that are eco-friendly to use.
Our Final Verdict
The news of the invasion of the pantry months in your place of residence can torture your peace.
However, it is possible to live in an environment that is moth-free. The insects are aggressive; hence, you require a similar attitude to counter them.
You can use this guide and the details in the article to select the right product that can eliminate pantry moths from your house.
Factors to consider when Buying Pantry Moth Killers
A significant factor to consider is where the moths have infected your house. This will inform your choice of the killer or trap.
Therefore, finding a remedy will save you from all the consequences of hosting them in your residence. Making certain considerations is key to getting the best solution.
The following aspects are critical when buying the right pantry moth traps and killers. Never overlook them before you say bye to pantry moths.
a)    Size of the killer
You will succeed in trapping more moths if the trap has a large sticky surface area. Also, the trap should have a large opening to increase more chances of pests flying in.
b). The appearance of the trap
The ideal trap should not be evident to the visitors that you have a pantry challenge. The structure should blend well with your house's décor.
Strategically, place around the cupboard or kitchen without triggering a social discomfort.
c). Packaging of the killer
The correct packaging preserves the sticky surface and pheromone. Avoid the products that have cardboard packaging since the package may not be airtight. The best packaging involves airtight cellophane.
d). Easy to assemble
The most tranquil design should consist of the pheromone and the glue board. Here, you only require two steps:
Use the protective cover to unveil the glue board.
Spread the pheromone on it as you fold it.
e). The Price
The price of the moth trap should not hurt your budget. Nevertheless, some prices cannot determine the quality and effectiveness of a product.
Conclusion
Pantry moth traps really work and can help you get rid of them in their hiding areas. The selection of the best product is not simple, and that is why the above list narrowed your options into the 12 best pantry moth killers.
At last, you will have a solution when you correctly apply the right product to meet your pantry moth problem. When the moths disappear, take these measures to prevent pantry moths from your kitchen. The time to act is now to prevent further destruction.
Watch how Terro traps work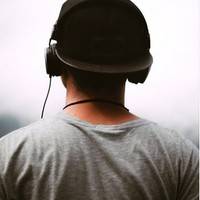 As a homeowner, I am specifically keen on home improvement. I am passionate about homes, yards, and home improvement. I blog on home ideas and reviews on solutions that make homes better.