Lighting is an important component of every home or workspace. Getting the appropriate lighting can improve the appearance and completely transform the atmosphere of any space. On the other hand, poor lighting lowers both the quality and the appeal of a space.
If you own a restaurant or hotel owner it is vital, to have the lighting just perfect. While there are a variety of lights in the market, choosing the right one for your room might be challenging due to the time and effort involved.
In terms of illumination, there are several alternatives, such as lamps, chandeliers, floor lights, ceiling lights, and others to use.
Floor lamps are better in terms of lower cost and ease of fitting compared to ceiling lamps that are expensive and require expertise to install. While ceiling lights are fixed hence safer, floor lamps are mobile, which increases breakage risks. However, ceiling lights are more beautiful lighting from a central point.
Whether you are searching for decent lighting set for your room, or you are a restaurant owner seeking appropriate lighting to match the theme or initiate a certain mood, there are two most popular types of lamps – floor lamps and ceiling lights. 
In this article, we have compared the floor lamps and ceiling lights comprehensively to help you make an informed buying decision.
Check out our recommendation for the best ceiling lights for your living room, bedroom, or study room.
What Makes Ceiling Lights Good?
Ceiling lights are the ideal option if you wish to have a lot of light in your home or workplace. These lights are both helpful and appropriate for any type of room.
Ceiling lights can be turned on and off with the flick of a button, making them very simple to use. Some areas of our homes don't get enough natural light throughout the day, so ceiling lights can be used to light them up.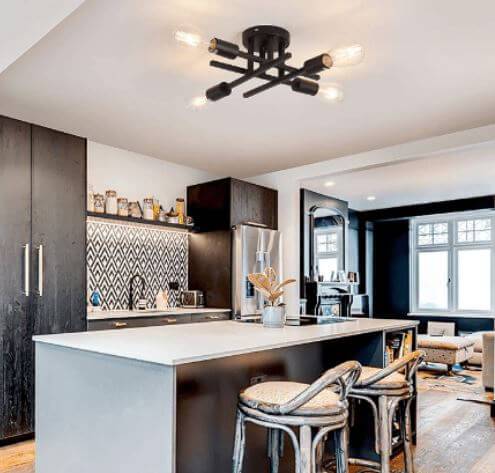 While stuff like furniture gives you house structure and a layout, ceiling lights upgrade everything in your home.
Ceiling lights do much more than illuminating your home. For example 
Flush ceiling lamps are ideal for spaces with low ceilings since they make them appear more fashionable and sophisticated.
Check our recommendations for the best ceiling lights for low ceilings and basements to get top choices for this year.
The bulbs are also incredibly easy to change and come in a variety of fun patterns and designs.
Drop ceiling lights hang from the ceiling and face the ground.
Some of these lights may even be turned so that the light shines upwards rather than below.
Pendant lights and chandeliers are the two most common varieties of drop lamps. Apart from illumination, these types of ceiling lights add, accent, beautifies and magnifies a certain theme.
Then there are recessed ceiling lights which are set against the ceiling, in contrast, to flush lamps, which are placed directly next to the ceiling. They come in handy when it comes to attractively adorning your room.
What makes floor lamps good
Floor lights are very simple to use and can be placed in any part of the room to brighten it up and make it look more attractive. These types of lamps can help you read a book, do a puzzle while sitting on the couch or chair, or even enjoy a fine cup of tea while conversing.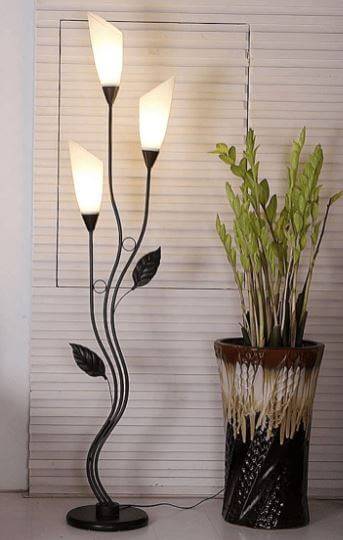 Floor lamps can concentrate light on a single area or object. You'll have a lot of options when it comes to illumination levels.
You can use the brightness level to enhance any activity, such as writing or reading or use the dim illumination option to create a romantic atmosphere.
The best thing about floor lamps is that they only require a floor! meaning they are particularly adaptable.
They never let you down, whether you need a permanent reading solution for your study or a temporary lighting solution for an evening with friends in the backyard.
Colorful LED lighting can also be used to change the mood and atmosphere.
Floor lamps can be used as a stand-alone lighting solution to highlight a specific area in a room or in conjunction with other lights.
They go with any light source, from romantic chandeliers to table lamps. They also assist in softening strong lighting by balancing the room's brightness.
Comparing ceiling lights and floor lamps
You'll be able to decide what kind of lights you need once you've figured what place you need to illuminate. However, keep in mind that lighting can be classified into three categories:
Ambient lighting provides enough light to illuminate an entire space and make everything brilliant; they do not, however, focus on illuminating a single object or location. They're found on the ceilings of closets, corridors, restrooms, and kitchens, among other places.
Task lighting is used to let you see your job more clearly up close. This can include craft lights and other types of lighting.
Accent lights aren't used very often in homes. They're used to illuminate exhibits, landscape elements, and artwork, among other things.
Here is a comparison of some aspects of ceiling and floor lamps.
Beauty of Ceiling lights vs Floor Lamps
Additionally, there is a range of colors, styles, and shapes to choose from, on a reasonable budget. Ceiling lights feature a one-of-a-kind design.
In terms of beauty, both ceiling lights and floor lamps provide unique ways of beautifying the space. While ceiling lights provide a wider sparkle of beauty that covers the whole room from one central point, floor lamps are more beautiful if they are spread across the corners of the room.
Either way, both do boost the room's stylish factor while maintaining its usefulness and utility.
What exactly does this imply? The greatest ceiling light with an incredible wall behind it is a one-of-a-kind design. It can improve the environment of your home. Ceiling lights are the greatest light choice for your shop if you're looking for light fixtures.
Floor lamps, on the other hand, have an unrivaled allure all their own. They're a timeless piece of furniture that goes with practically any interior design motif, from new-age nautical to old-school farmhouse.
Furthermore, floor lights provide you the creative freedom to arrange your area according to your needs, which is a significant benefit for tenants who don't want to invest in permanent illumination.
Cost of Ceiling Lights vs Floor Lamps
As we already know, ceiling lights require professional installation which is very expensive. The wiring and the many bulbs can cost higher during the initial installation.
However, once installed they might serve you for many years depending on their quality. On the other hand, a floor lamp is affordable to install and maintain. Floor lamps save electricity if you can get energy-efficient LED bulbs.
You can also use your floor lamps as bed lights with LED lighting solutions because they light up the room for lengthy periods without putting a strain on your electricity cost.
It is important to note that floor lamps are prone to falls hence may require frequent replacements if you are not careful.
Fitting Ceiling Lights vs Floor Lamps
Unlike other lighting options, floor lamps have the unrivaled benefit of requiring no installation. All you need is a cozy area for aesthetics and a power outlet for power.
You can completely avoid the procedure of seeking expert assistance, cleaning up afterward, and, of course, paying for the services.
They may also be installed in virtually every part of your home, from the bustling living room to the charming balcony, providing you with the benefits of movement and elegance.
Ceiling lights, on the other hand, cannot be installed by an unqualified person. They require planning, time, and skills to fit them on the ceiling. Moreso, they can only hang on the ceiling of a structure.
In summary, floor lamps are better because they are easier to install and fit into the room as no much expertise is needed. They are also portable and can be fitted in any part of your room. However, they can also break due to mobility. On the other hand, ceiling lights are difficult to fit as they require expertise to fit and they are more permanent when fitted.
Do lamps use less electricity than ceiling lights?
The simple answer is no since it depends on the type and wattage of the bulb. The cost of power usage is determined by the wattage you use. For example, if both the ceiling light and the floor lamp have a wattage of the 60-watt globe, the electricity consumption will be the same.
Ceiling lights tend to use more electricity because they need to light the entire room from a central point. However, the real consumption depends on the size and voltage or wattage of the bulb and not the location of the lamp. Therefore, the difference in electricity consumption isn't due to the use of floor lamps or ceiling lights but wattage. 
However, the majority of home floor lamp wattages range from 40 to 60 watts, while ceiling light wattages range from 60 to 75 watts. It, therefore, means ceiling lights may consume more electricity due to their high wattage as compared to floor lamps.
Conclusion
Deciding on which type of light to use might be difficult if you don't evaluate all of the factors. The key distinction between the ceiling lights and the floor lamp is the buyer's prospect.
Although we have compared some parameters, many people have noticed that it is never a competition between floor lamps and ceiling lights to determine who wins, but rather a solution to use a combination of both to complement each other.